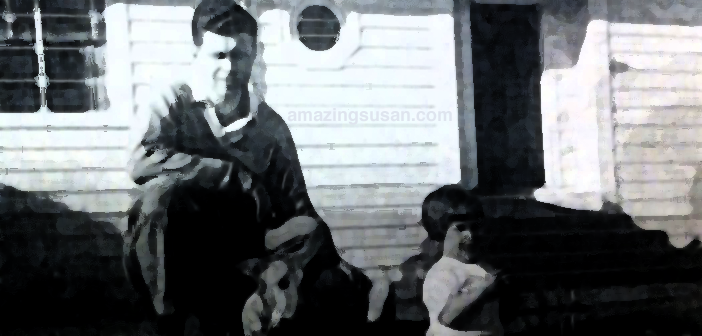 My father was a handsome, intelligent, charming and troubled man. I didn't know he was a covert narcissist until I began writing Betrayed: Inside a Pathological Love Relationship in early 2021, thirteen years after my father's death in 2008, and more than thirty years since the last time I had seen him.
Dad grew up in a well-to-do family with many privileges, but his childhood was less than idyllic. He suffered from allergies and painful eczema; sometimes rice was the only thing he could eat for weeks. His relationship with his own father, a decorated war veteran who later became a vice president of Bell Canada, was strained. He called him "the old man."
At 16, he ran away from home. His whereabouts were unknown for a year until a family friend ran into him by chance in a cinema in California where he was working as an usher. Who knows how he got there, thousands of miles from his home in Quebec. His mother had been sick with worry; he had never called or written to say where or how he was.
He met and married my mother when they were in their early twenties. They lived in Vancouver, across the country from their families. My brother and I were born there. By all accounts Dad and Mom were happy on the west coast. But even those early days were not without issues; he began dabbling in the stock market, and tumbled deeply in debt. The old man bailed him out.
Then, just before Grandpa died in the late 1960s, Dad fell out with his two elder sisters over Grandpa's estate. He wanted his share before Grandpa died. When they refused, he didn't speak to either of them for nearly 40 years.
In the meantime, we had moved back to Eastern Canada. I remember many good times with Dad, particularly in winter. He built an ice slide down the hill next to the house we lived in at the top of Clough Street in Lennoxville. The mini "luge," which we slid down on our bottoms, was a big hit with the neighbourhood kids.
When we moved to a place in the country, he hollowed out huge piles of snow he shovelled himself to create igloos big enough for his six-foot frame to stand tall and for us to play in. He got up before dawn to drive us to far-flung events when we skied competitively; I can still hear him cheering as I crossed the finish line. He built stalls in the barn so I could keep Pony Club ponies over the winter even though he was allergic to horses. He was the master of ceremonies on Christmas mornings, sitting closest to the tree and distributing presents one by one, waiting as we opened them in turn.
These are happy memories. Others are painful.
One January night when I was 13 the two of us trudged up to the barn to mend a broken rail. Our breath blended and froze in clouds as I held the flashlight and he plunged one nail after another into a previously virgin two by four. In the midst of it, his anger at my mother boiled over and scalded me.
"All women are good for is growing a pair of tits and going out and getting a man," he accused. After he went back to the house to resume the argument that had prompted the soul-destroying statement, I sat alone in the frigid barn and cried.
He drank gin and water in tumbler-sized glasses, and lost several fortunes in the stock market, which would have been fine if he'd had several fortunes to lose. I will never forget the day Mom walked into the kitchen crumpled and defeated by his addiction to speculating in gold stocks.
"The bank is going to take our home," she choked out between sobs. He had used our home as collateral to buy stocks on margin. When the margin was called, he didn't have the funds to cover it. Mom willed herself out of shock and managed to save the place by remortgaging it at 17 per cent. Until I myself had endured a similar pathological love relationship with a covert narcissist, I wondered why she didn't leave him then. Now I understand the tragic cycle.
Several years later there was a court case around the questionable use of one of his client's funds. Dad attempted suicide. While he didn't manage to kill himself, part of him died anyway. Six months later, when I was "home" for Christmas, I sat beside him on his and Mom's bed. Ferocious tears ran down his cheeks as he thrust the tender side of his forearms toward me–failed suicide scars laddered up from his wrists to his inner elbows.
"Look what your bitch mother did to me!" His words slammed against my chest. His narcissistic rage frightened me. The fact that he blamed my mother for his suicide attempt is typical narcissistic behaviour. I didn't know that then. At the time, it was another little death.
In 1990, I loaned him money. In 1991, when he and Mom finally divorced, he wanted more. After I said no, he didn't speak to me for 15 years. He moved to Ontario, and lived alone in an apartment. His mental health declined, and he continued to play the stock market. When he began hoarding and neglecting his own physical health and hygiene to the point where he collapsed and was found by the neighbours, he was moved into a long-term care facility.
Across the years of deadly silence I sent birthday cards, Christmas cards, Father's Day cards and letters. He never responded. When I was in Canada at Christmas in 2006, he called. He had become more frail; he wanted to speak to me.
"I'm a millionaire Sue," he said. The stock market had finally repaid its debt, but not in kind.
"That's nice Dad," I said, feeling sad.
"I love you," he said.
"You do? What about all the cards and letters I sent Dad? The ones you never answered?" I hadn't given up hope of understanding. It would be more than a decade later and another abusive relationship before I got it.
"That doesn't mean I stopped loving you," he replied. I didn't know what to say to that so I said nothing. My heart beat hard, and there was a lump in my throat.
"How is your life Dad?" I asked.
"God-awful," he said. "Just god-awful."
"I'm sorry Dad," I said, meaning it.
The following Christmas I called him at the nursing home. There was no answer. I called back and spoke to the facility director. He was fine she said, just not in his room. I emailed her a link to AmazingWomenRock and attached a picture of myself. She emailed back to say they had shown Dad the website and pinned my picture in his room. He was happy to have the photograph, she said. He was proud of me, she said.
A couple of weeks later he fell gravely ill. He died on January 14, 2008. I hadn't seen him for close to 20 years. Besides good and bad memories, Dad left me money. Without it, I wouldn't have been able stop working, leave my life in Dubai and return to Canada to care for my mother. I wouldn't have been able to hold her hand on the final part of her life journey; I wouldn't have been there when she died. Our relationship wouldn't have healed as it did, and I wouldn't have experienced unconditional love – the love I gave to her. That's quite a legacy.
In a strange twist of fate, even when my daddy really died, he didn't. He lived on in a better way.
© 2021 Susan Macaulay. I invite you to share my poetry and posts widely, but please do not reprint, reblog or copy and paste them in their entirety without my permission. Thank you.