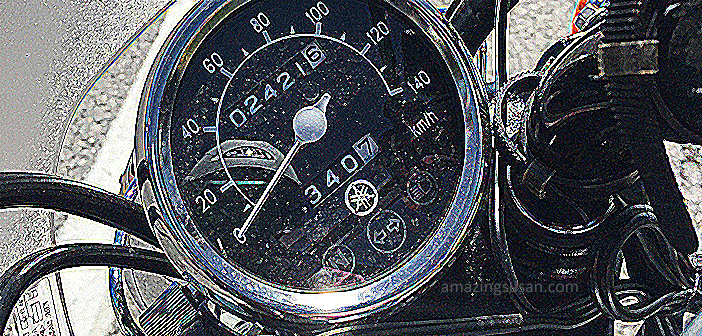 Looking out at the road rushing under my wheels
Looking back at the years gone by like so many summer fields…
Jackson Browne
~~~~~~~~~~~~~~~~~~~~~~~
Inconveniently, my Yamaha V-Star 250 is not equipped with a gas gauge. So how to know when the fuel is getting low?
The V-Star manual gives a mileage estimate and says the tank is 9.5 litres including the reserve. But how many kilometres could I go before I would need to switch to the reserve? How would I know exactly when to switch over and what did I have to do to make the switch? Further, how far would the reserve take me?
Members of the Ottawa Motorcycle Riders FB group were most helpful in answering my questions. No, commenters wrote, she wouldn't come to a dead stop, she would start to sputter and skip when I needed to switch to reserve. Once that occurred, I could try to make the change on the fly or pull over and do it while stopped. Either way, I would have to turn the petcock (the valve that directs fuel from the tank to the carburetor) to make it happen. If I didn't manage to switch it in time for a smooth transition, I would have to push the petcock a half turn back to 'prime' and then, well, it would get a little more complicated….
I needed to investigate.
Step 1: locate the petcock and see if I can turn it.
Out to the garage I went. Finding the petcock was easy enough. On my bike, it's on the left-had side just below the gas tank. Turning it proved more difficult than locating it, mostly because it has to be done with the thumb I broke and dislocated in November (oops!) and which, sadly, is now pretty much useless for anything other than operating my bike's blinkers — even that causes it to ache in short order. Nevertheless, with effort and a little discomfort, I rotated the petcock while sitting stationery on the bike in the garage.
Step 2: plan a road test.
Those in the know guesstimated she would start gasping for fuel at around 190 km. That would be my signal to turn the petcock, after which, they further guessed, I would likely have about 50 kilometres worth of fuel in the reserve.
Based on that information, I conducted a little experiment on my Almonte /Blakeney /Pakenham /Blakeney /Almonte practice loop, which is about 35 kilometres long in total. There are Francis Fuel service stations at either end and I knew someone would stop to help me should something go awry. I added a Carleton Place loop to my test route for distance.
I would confirm the 50 km estimate regarding the reserve by letting the tank, including the reserve, run completely dry. My friend Pete Andress leant me a purpose-built, 1.5-litre fuel canister (thanks again, Pete), which I filled with gas, wrapped in towels and carried in a backpack so I would have fuel to get home after running her dry the tank. At no point in my road test would I be any further than 15 kilometres from a service station.
Step 3: execute the road test.
I had thought the test would take one day, but it actually took four. I already had a little over 130 km on the trip odometer when I set out on my test run on Day 1.
I finished the planned route at 194.5 km without a hint of a sputter.
The next day, I made it to 242 km before it started to rain. I'm not big on riding in the rain.
Again, the test was interrupted.
On Day 3, I rode to just outside Blakeney before she started to cough. I successfully turned the petcock to reserve on the fly (ouch! said my thumb); the trip odometer read 255 kms. If the 50 km reserve tank estimate is accurate, she should run completely dry at about 305 km.
On I went.
I rode around my practice loop twice, then back and forth to Blakeney several times and then round and round the block in my neighbourhood until I was tired of riding in circles. At the end of two hours, I had reached 313 km.
The bike's tank still wasn't empty. But mine was:
She finally ran out of gas just outside of Almonte at 340.7 km the following day — the fourth of my extended road test.
I coasted onto the shoulder and stopped, retrieved Pete's cylinder from my backpack, poured in the litre and half of fuel (see video below), started her up and rode the couple of kilometres home.
Repeat. Kinda.
I did the switch-to-reserve part of the exercise twice more; she went to 247 and 239 kms respectively for an average of 247 kms over the three tries. I didn't let her run dry again. Assuming a conservative 75 kms for reserve (she actually went 85), she should go about 322 km on a full tank, which google tells me roughly translates into 80 miles per gallon.
That's the long answer to "How far can I go before she sputters?" The short answer is somewhere between 230 and 255 kilometres.
I no longer worry about running out of gas or not knowing what to do if I need to switch to reserve. I reset my trip odometer to zero every time I fill up. And I refill at around 200 km to be on the safe side, avert further insult to my injured thumb and avoid running on empty while riding through summer fields.
Running on Empty
Song by Jackson Browne
Looking out at the road rushing under my wheels
Looking back at the years gone by like so many summer fields
In sixty-five I was seventeen and running up one-oh-one
I don't know where I'm running now, I'm just running on
Running on, running on empty
Running on, running blind
Running on, running into the sun
But I'm running behind
Gotta do what you can just to keep your love alive
Trying not to confuse it with what you do to survive
In sixty-nine I was twenty-one and I called the road my own
I don't know when that road turned, into the road I'm on
Running on, running on empty
Running on, running blind
Running on, running into the sun
But I'm running behind
Everyone I know, everywhere I go
People need some reason to believe
I don't know about anyone but me
If it takes all night, that'll be all right
If I can get you to smile before I leave
Looking out at the road rushing under my wheels
I don't know how to tell you all just how crazy this life feels
Look around for the friends that I used to turn to pull me through
Looking into their eyes I see them running too
Running on, running on empty
Running on, running blind
Running on, running into the sun
But I'm running behind
Honey you really tempt me
You know the way you look so kind
I'd love to stick around but I'm running behind
You know I don't even know what I'm hoping to find
Running into the sun but I'm running behind
© 2022 Susan Macaulay. I invite you to share my poetry and posts widely, but please do not reprint, reblog or copy and paste them in their entirety without my permission. Thank you.