almonte / griffith highlands loop & road report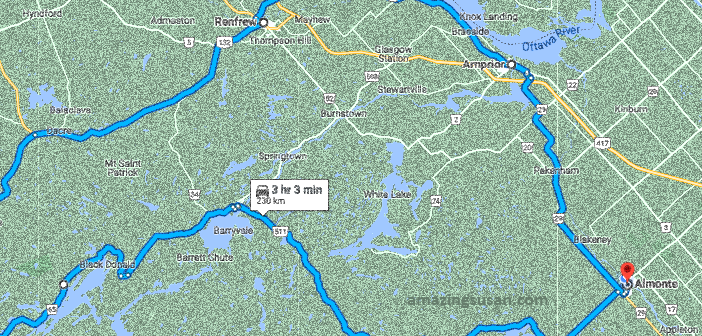 This is a nice little loop and Tuesday June 20 was a perfect day for riding it. (See the short Relive video of at the bottom of the post.)
Heads-up
Here are three time-sensitive observations about the route:
1) Tatlock Road
The three or four kilometres heading from Clayton toward the 511 that were recently resurfaced from just before Galbraith Road with "chip and seal" are well-packed now. I didn't see any loose gravel with the exception of at the 511-side of the corner of Galbraith Road. While the renewed section is significantly wider and smoother than the next eight or nine kilometres, there is no centre line.
Graham Collins, who has been riding for decades, lives in Lanark Highlands and is one of my biking mentors (thanks Graham <3) said this in response to my FB post: "I had a look at the section of Tatlock Rd that was re-surfaced. It doesn't look like anything I've ever seen. Not classic chip 'n seal but maybe a new version. The grip is pretty good."
2) Centennial Lake Road
The bottom of Centennial Lake Road is absolutely beautiful at the moment – plentiful daisies line the road on both sides for a good ten kilometres. There's also purple loosestrife and other wildflowers in bloom further up. I didn't see any signs of damage from the wild lands fire that burned in the area a couple of weeks ago. Now is the time to go to see the daisies on Centennial 🙂
3) #1 (River Road) Resurfacing
It seems there's a lot of resurfacing going on in scattered patches here and there in Lanark and Renfrew counties. I came across one such two-kilometre patch on Ontario #1 about 10 kilometres before Braeside headed toward Arnprior. The crew was in the midst of removing the old asphalt and it was pretty messy (see pic of bike resurfacing in video below). Of course things will progress so it will likely be better by the time you read this.
A chance encounter
I paused for a breather at the boat launch about two-thirds of the way to Griffith from the start of Centennial. When another rider stopped on the road, I beckoned him over to offer to take a photograph of him, his bike and the lake.
"Are you AmazingSusan?" He asked when we got close enough to see and hear each other properly. (We both still had our helmets on.)
"I am," I said and laughed.
"I'm Pierre," he said. "I follow you on Facebook."
Too funny.
We chatted for a bit, took some pics and he was off to Barry's Bay en route to his final destination, Manitoulin Island.
Good stuff
Things I like about this loop, which you might too: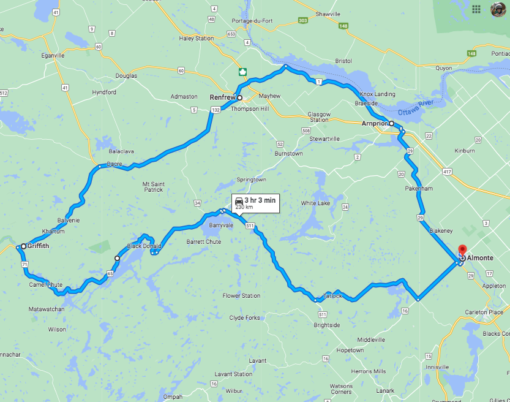 1) Length
It's a good length – not too short or too long (at least for me). All told, including stops and chats and enjoying the scenery, it took me about five hours. I have a small bike; I don't ride much over 110 kph and I'm still learning to safely and enjoyably navigate twisties. Folks who prefer to go faster and further could easily add other loops to this one to make it longer.
2) Variety
The loop includes twisties and sweepers; rolling hills and flat bits; forested areas; villages; towns and farmlands; rivers and lakes; etc. The diversity of landscapes and environments makes it visually interesting and fun to ride. The only extended straight bit is Wolfgrove Road (#16) heading out of Almonte to Union Hall.
3) Amenities
There are good places to eat in Almonte, Calabogie, Griffith, Renfrew and Arnprior. There are also Airbnbs in those places. I don't camp so I don't know about campsites. My favourite ice creameries are in Almonte and Pakenham and I usually stop at the Clayton General Store to say hi.
I tacked on a run to the Tuesday bike night in Manotick after the loop because it was too nice a day not to keep riding and besides, it wasn't dark yet LOL 😛
Maybe I'll see you on the road one day. In the meantime, #ridesafe.
© 2023 Susan Macaulay. I invite you to share my poetry and posts widely, but please do not reprint, reblog or copy and paste them in their entirety without my permission. Thank you.