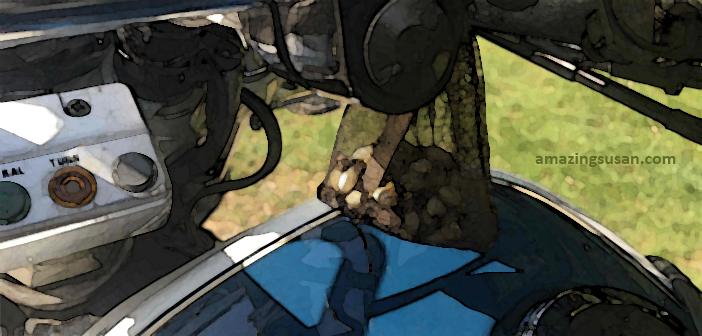 I've always loved the expression 'on a wing and a prayer.' It implies both imminent danger and precarious hope, both of which feel present to me every time I ride.
I googled the origins of the saying yesterday (my mother's birthday), when I thought I might use it as a title for a post.
According to the grammarist.com, the expression was:
"…born out of the turbulent times of World War II. In 1942, there was a film called "The Flying Tigers," and John Wayne's character says, "Any word on that flight yet?" And a hotel clerk replies, "Yes sir, it was attacked and fired on by Japanese aircraft. She's coming in on one wing and a prayer."
It was also used in a 1943 song by Harold Adamson and Jimmy McHugh, inspired by a real event. A damaged plane managed to return home safely, and the phrase perfectly captured the mixture of luck, faith and resilience that allowed such a miracle."
Luck, faith and resilience are things my mom had in abundance. I superstitiously carry her prayer beads, which were passed on to her by her mother, in a small gossamer bag attached to Blue's handlebars. I'm not religious, but I reckon there's no harm in having god on board when you're out 'riding the roads' as Mom would have said.
I marked Mom's birthday with a mostly solo loop amidst the beauty of the fall colours in @RideTheHighlands; here it is:
© 2023 Susan Macaulay. I invite you to share my poetry and posts widely, but please do not reprint, reblog or copy and paste them in their entirety without my permission. Thank you.