23 motorcycle-related things i'm grateful for this thanksgiving 231007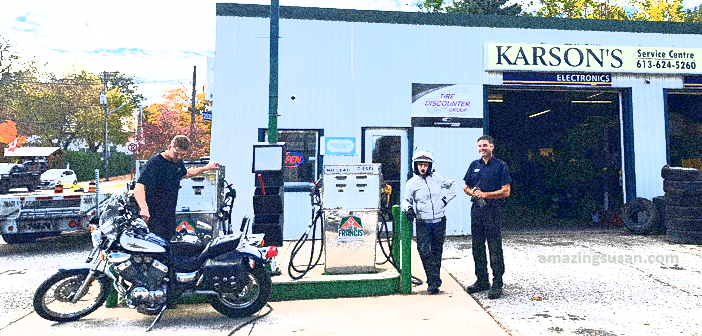 It's Canadian Thanksgiving weekend 2023. Here are a few things I can think of (off the top of my head) that I'm thankful for with respect to motorcycle riding so far this season (with a couple from seasons gone by):
I'm grateful to Derek Chalker for helping me unflop my floppy rhs mirror when I rode my motorcycle into his Blakeney driveway in the fall of 2021; I had only been riding a matter of weeks.
I'm grateful to Karson of Karson's Service Center in Pakenham for helping me to adjust said floppy mirror a few kilometers later so I could actually see what was behind me. I've filled up regularly at Karson's since then because he was so gracious with his time and expertise on that first occasion and also because the attendants and mechanics are always unfailingly smiling, helpful and friendly. (No, he's not paying me to say any of this LOL !) The picture above is to mark the milestone of Blue and I having ridden 10,000 kilometers during the past seven weeks. We started riding together mid August when she had 56,511 on her odometer and we got to Karson's at about 66,515 on Friday, October 6.)
I'm grateful to my friend, motorcycling mentor and riding coach James A. for everything he has done to keep me on one motorcycle or another over the past two seasons. I could not have ridden as far nor enjoyed it as much without him.
I'm grateful to all the other folks who have also helped me in small and big ways with advice, stories and just by listening. Among them (in no particular order): Alan Burns, Paul LeBlanc, Johnny Racine, Kelly Klinck, John Fournier, Keith Green, Van Vuk and Graham Collins.
I'm grateful the @OntarioHighlands are in my backyard and that @RideTheHighlands does such a great job of sharing information about the fabulous routes, roads, and opportunities for enjoyment there are in the Highlands for motorcycle riders.
I'm grateful for having the resources to have three motorcycles so that my ability to ride is rarely interrupted and I can learn new things all the time.
I'm grateful I'm retired from paid work and that the volunteer work I do allows me the freedom to ride every day. Only the weather and mechanical issues sometimes get in the way.
I was grateful for my mesh jacket in the heat of summer.
Now that it's fall and the temperatures are cooler, I'm grateful that Blue has new heated handlebars.
I'm grateful for maps — the paper kind as well as the google kind (at least most of the time) that allow me to get from point A to point B and all the points in between.
I'm grateful I've learned how to efficiently remove the bugs on my windscreen.
I'm grateful to James A. for being an unfailingly enthusiastic riding partner and to Barb Lemay, Anne Armitage, David Green and Ron Ryan for having ridden with me again this season.
I'm grateful for the hundreds of hours and thousands of kilometers I've ridden solo this season (so far!) all of which have been a meditation on the road, life and the freedom that is enabled by motorcycle riding.
I'm grateful to Ryan Rosborough of @FarReachOutfitters for his systematic and creative problem solving with my bike-related challenges and specifically for fabricating an AWESOME crash bar for TheFox, installing baffles that make Blue purr instead of growl and for resolving the front-tire issue on Blue.
I'm grateful to Trish Graham for giving me luggage bags I can bungee onto my bike to carry more stuff on road trips.
I'm grateful for having ridden my longest loop to date this summer.
I'm grateful than none of the times I dropped Blue (mostly due to the tire issue) resulted in any damage to her or me.
I'm grateful for having revitalized my AmazingSusan FB page and for the 400+ people who now follow it (I invite you to follow too). These folks from all over the place encourage, advise and laugh with me. I'm delighted to have them on my side.
I'm grateful I was able to volunteer on several fundraising rides and to also participate in the Epic Ride for Mental Health 2023 with special thanks to the group from Quyon, QC, with whom I rode.
I'm grateful to the guardian angels who held TheFox and I upright when, ironically, an improperly installed crash bar could easily have totalled us both. Those same angels guided us to a slow stop when Blue's front tire recently went flat on an S curve. I'm grateful for their intervention then too.
I'm grateful I had sufficient physical strength and mental acuity to ride this season and I'm hopeful I will be able to ride again in the spring.
I'm grateful for all the other stuff I already mentioned here.
Finally, I'm grateful to you for reading my list and I hope it makes you feel grateful too.
Take care and #ridesafe <3
Happy Canadian Thanksgiving.
© 2023 Susan Macaulay. I invite you to share my poetry and posts widely, but please do not reprint, reblog or copy and paste them in their entirety without my permission. Thank you.