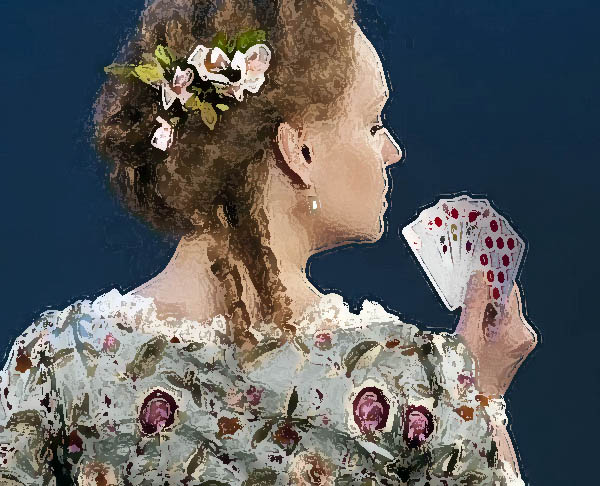 One night I found myself in tears wishing I were somewhere other than where I was.
The next morning I dragged my spirit out of a ditch and told myself to get on with it. I wrote the poem below as part of that process.
Don't like the cards you've been dealt? Deal yourself a new hand.
a royal flush
©2015  punkie
oh how we long
for things that are gone
a lover, a mother,
the life of another
we're here all alone
our hearts turned to stone
ghosts come to haunt us
the past lives to taunt us
come hither they say
forget it's today
remember your losses
make memory sauces
rue those left behind
somewhere in your mind
take a knife to your heart
deftly tear it apart
yesterday beckons
offers you seconds
it's never too late:
heap regret on your plate!
touch faded faces
go to lost places
don't count your blessings
leave wounds without dressings
all is in tatters
nothing else matters
it seems you're the master
of total disaster
you screwed up your life
stopped being a wife
now the piper wants paid
and you rarely get laid
the boss makes you sick
so you call him a dick
that isn't a winner –
the money gets thinner!
how could you have known
your cover was blown
when the lie that you told
on ebay was sold?
hang up on that call
to hell with it all
leave the past in the past
where the die has been cast
don't wallow in sorrow
but look to tomorrow
where the future is brighter
for those of us fighters
no point in crying
or thinking of dying
or drowning from guilt
in milk that's been spilt
create what you want
success you can flaunt
play the cards you've been dealt
with stuff under your belt
you have what it takes
to make the world shake
be gutsy, find glory
and change the whole story.
©2015 Susan Macaulay. I invite you to share my poetry and posts widely, but please do not reprint, reblog or copy and paste them in their entirety without my permission. Thank you.