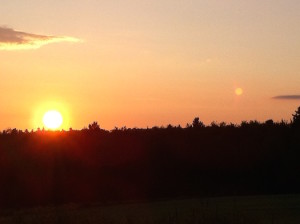 A cardinal song
is my reveille:
at rising
summer dawn
s/he serenades
me awake with
avian melodies
from a dead
tree.
The glassy lake
re-births me:
inhale, exhale;
strokes break
the water's
surface,
and I glide
into
this day.
Cotton candy #PINK
clothes me:
tank top,
diaphanous skirt,
streaked silver.
And bling.
Too much
bling,
of course.
Solitude
provides a safe haven:
s/he turns me
inside out
to write,
write,
write.
Now.
Or never.
Loneliness
accompanies me:
s/he takes
my hand
like my mother
once did,
and I
hold on
tight.
Two faulty clocks
mark the time:
one chimes
twelve at two,
the other
doesn't
tick
tock
at all.
Fresh food
delights my palate:
wild berries,
juicy shakes,
crisp salads,
Atlantic salmon,
grilled vegetables
on the
barbecue.
The setting sun
reflects my beauty:
once vibrant
#PINK and orange
hues
fade
deep blue
the long-in-the-tooth
horizon.
The starry sky
creates a canopy:
a far-flung
Milky Way of
diamonds
and dogs
to grace
black velvet
space.
A king
beds her queen:
more than room for two
#OccupiedByOne,
expansive sleep
and electronic
gadgets
within
easy reach.
A cool breeze
is my lover:
shhhhhhhhhh,
s/he slips
silent breath
through an open window,
and whispers
sweet nothings
on hot naked skin.
A river of sleep
renews me:
some times deep,
others elusive.
Dreams come.
Dreams go.
Remembered today.
Forgotten
tomorrow.