7 leap before you look lessons from Mandarin ducklings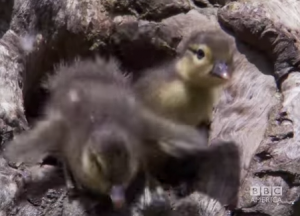 Hatching a new venture?
Or reinventing yourself?
In my experience, there are lessons to be learned everywhere all the time – especially in nature and the animal kingdom.
The video below of the ducklings came to me randomly from the captain of my ladies golf league.
It was too good not to share 🙂
I hope you enjoy the natural wisdom of these Mandarin ducklings as much as I do!
Check out the video and the handy lessons list summary underneath it 😛
To summarize:
1) Jump now
2) Have faith
3) Expect bumpy landings
4) Get moving!
5) Follow the leader
6) Watch out for foxes
7) There's someplace you're meant to be
Besides going a little crazy in a good way, Susan Macaulay created and curates Amazing Women Rock, SheQuotes and My Alzheimer's Story. She also helps people with public speaking, confidence building, writing and editing.