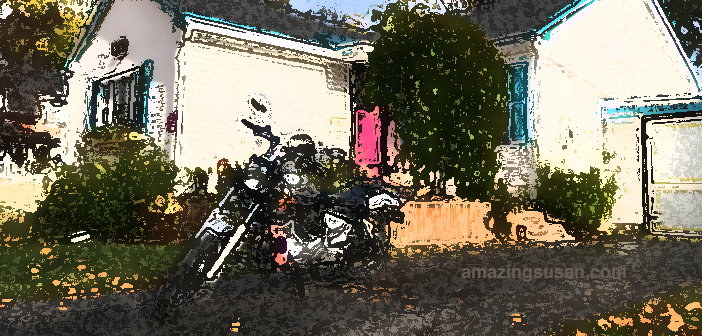 Sometimes when I sit down to write, I have no idea what's going to come out. That's what happened the other day when this meandering piece of fluff made its way onto the page.
One has no choice but to go with it. Just for fun 🙂
on siding & riding
by susan © 2021
on siding & riding
what to write? i don't know
ideas come, then fail to flow
should I tackle mc riding?
or talk about my house's siding?
I had it washed (the house I mean),
and now the siding's super clean
it sparkles whitely in the sun
makes coming home a ton of fun
the window trim is black not blue,
the shutters are a turquoise hue.
last year, i added daisy yellow
that makes the place feel kinda' mellow
the door is bold – a shade of fuchsia
which rhymes (conveniently) with kombucha
– that's the brew them hipsters drink
and so would i if it were pink
colour should be everywhere
in your food, on what you wear
match it, batch it, and if you dare,
even streak it through your hair
that said, i dig my silver locks
whose colour isn't from a box
which brings me back to mc riding
(having now completed siding)
i got a bike (not the kind you pedal)
she shines a lot like sterling metal
she's a her of that i'm sure
at 80 k she loves to purr
but for the record, she's not a cat,
she doesn't have an ounce of fat,
she's sleek and slim, and full of moxie
perhaps that's why i call her foxy
when we ride to far and near
i always don protective gear
just in case we both should fall
or run into a thick brick wall
i put a helmet on my head
that has a shield to which it's wed;
leather chaps, a padded jacket,
gloves and boots complete the packet
safety first means we get to ride
with hosts of angels by our side
and underneath there rings a bell
to keep evil spirits down in hell
here suddenly the verses end
of a poem gone round the bend:
from houses, siding and their hues
to riding safe while on a cruise
you never know where poems will go
they're sometimes like long winding roads:
they take you where you're meant to be,
hold tight your heart, then set you free
© 2021 Susan Macaulay. I invite you to share my poetry and posts widely, but please do not reprint, reblog or copy and paste them in their entirety without my permission. Thank you.