uk composer turns #bikerpoetry into heart-stopping, foot-stomping, chart-topping country music song <3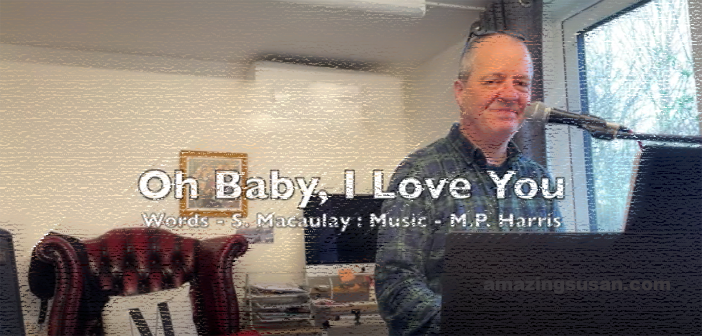 I was one in a thousand people milling about during a coffee break at the Leaders in Dubai conference in November 2006, when a man whom I didn't know approached me.
He smiled and then spoke.
(You may be wondering what this has to do with #bikerpoetry and country music. Wait for it.)
"Hello," he said with a British accent.
"Hi." I likely responded, though I can't be sure at this point.
Then he said something along the lines of: "I was compelled to come over and tell you how attractive you are. How you stand out in the crowd. I don't wish to embarrass you and I apologize if I have, but I had to tell you."
I was surprised and delighted in equal measure. Who wouldn't have been? We chatted briefly, exchanged business cards and headed our separate networking ways. We haven't seen or even spoken to each other in the sixteen years since. But I never forgot his kindness, candour and fearlessness in coming to speak with me on that November day in 2006.
AND, we stayed intermittently connected, initially via LinkedIn or e-mail and then via comments on my various Facebook pages. In fact, for the past several years, Malcolm has pretty much been the only commenter on my AmazingSusan FB page. I created the page in 2016, but I used it  infrequently — until now. On the rare occasions I did put up a post, Malcolm always had something interesting, provocative, supportive and/or creative to add. It has been such a joy to have his input.
Which brings me to Thursday, January 5, when I shared one of my poems there, 'oh baby, i love you,' remarking that I thought it would make a great country song. I had been trying seemingly forever (and unsuccessfully) to find a composer to put my poetry to music. I hoped somebody might show some interest if I suggested a genre.
Four days later, I got this message from Malcolm:
"Hi Susan,
When I read your poem, 'Oh, Baby I Love You', and more particularly your observation that it sort of sounded as though it could be a country song, I took you at your word. I started working on the idea over the weekend, before you sent out your request for people to set your poems to music. That's just the way serendipity goes, I suppose. Anyway, here's a link. I hope you like what I did with your words and feelings…"
OMG! I was absolutely over the moon. I had no idea Malcolm was a musician.
He followed with a note saying his 'performance' was modelled after the beloved British comedic writer, actor and musician Neil Innes who wrote original songs for Monty Python and the Holy Grail and appeared in the film as a head-bashing monk, the serf crushed by the giant wooden rabbit, and the leader of Sir Robin's minstrels. Innes was also known for his musical parodies. That tidbit cued me to expect something fun and quirky. Right up my alley.
Malcolm's composition and performance perfectly capture the tongue-in-cheek nature of my poem, which is (I was right!) ideally suited to a country sound. What an awesome piece of collaboration across time, space and the pond.
Thanks again, Malcolm Harris, for a cool collaboration 🙂
Next stop, Nashville.
© 2023 Susan Macaulay & Malcolm Harris
P.S. And yeah, we know it's not heart-stopping, foot-stomping or chart-topping (yet lol), but hey #clickbait #sorrynotsorry 😛
Read here:
oh baby, i love you
i knew from the minute
you got out of your cage
that my old life was over
and i'd be turning a page
my heart started pounding
my hands began shaking
my mind was soon dreaming
of the love we'd be making
oh baby, I love you
you belong by my side
don't make me choose
between you and my ride
the sex is: 'oh man!
it's like we're made for each other'
i just can't imagine
ever wanting another
it's a fact, no denying
we're the 'two' in together
you in your jeans
and me in my leathers
oh baby, my darling
you belong by my side
don't make me choose
between you and my ride
you whisper sweet nothings
in the morning in bed
but i yearn for my freedom
to the road i must head
i love you my darling
you know that it's true
but the truth is
i love my bike too
i'm so sorry sweet baby
so long and goodbye
in the end
it's not you, it's the ride
© 2023 Susan Macaulay. I invite you to share my poetry and posts widely, but please do not reprint, reblog or copy and paste them in their entirety without my permission. Thank you.