two loops and 52 K mark two seasons in the saddle
Two years ago this week, I started to learn how to ride a motorcycle. Two years later, I'm still learning.
There's nothing particularly noteworthy about that in and of itself. Lots of people learn how to ride motorcycles.
In fact, according to Wikipedia, "Over 700 million motorcycles, including mopeds, motor scooters, motorised bicycles, and other powered two and three-wheelers, are in use worldwide, or about 100 motorcycles per 1000 people."
That means hundreds of millions existing motorcycle riders learned how to 'drive' a motorcycle at some point. But I'm fairly certain not nearly as many started at age sixty-five, as I did, never having 'driven' a motorcycle before.
~~~~~~~~~~
The instructors at the two-day Ottawa Safety Council weekend course I attended on September 11 & 12 came 'this close' to booting me out on the first day. They didn't expect me back on day two after a disastrous day one during which I dropped the bike I was on, couldn't keep up, had to be individually coached and cried on several occasions.
As expected, I didn't pass the M-1 exit test on day two.
Nevertheless, I persisted.
Unfortunately, less than eight weeks later: oops! I fractured and dislocated my left thumb, broke my wrist and bruised a few ribs. I had a cast on my left arm for a couple of months. When it was taken off, I started physiotherapy. Come spring, I was ready to ride again. Which I did. After a lot of practice.
I passed my M-1 exit on the second attempt in June 2022. After that, I was on the road lots more. In August, I got hit by a little SUV at an intersection. I rode my motorcycle home with a police car behind me to make sure I was as okay as I thought I was. I was, indeed, okay, so I rode a bunch more in the days and weeks that followed.
In September, I bought a bigger bike (a 1996 Yamaha Virago 535) because I couldn't easily keep up with traffic on my Yamaha V-Star 250 (called TheFox). It was a safety issue.
But I didn't ride the Virago (her name is Blue) until I felt ready, which was about a month ago (August 2023).
~~~~~~~~~~
This week I marked some additional milestones in my motorcycling adventure.
On September 11, I rode Blue on my longest one-day loop up to that point: 613 kilometres. It started with thick, cold fog and ended with clear (if darkening) skies; it took eleven hours including a half-hour, water-side nap at Barry's Bay as well as pitstops, fuel stops, comfort stops and snack stops.
Here's the Relive (the Google maps version is at the end of the post):
On Wednesday, I woke up early to clear blue skies and sun (yay, no fog) and decided I should do the same loop in reverse because, well, it's an anniversary week after all (read: #addicted lol).
When I got to Karson's in Pakenham to top up, I unintentionally 'leaned' the bike (read: #dropped) and pinned my right leg between it and the green post protecting the gas pump. Thankfully, one of the young attendants yanked Blue and me free after I yelled "Help!" several times. No one would have heard me at one of the big chain stations.
Then there were road works on the way to Renfrew. They're creating a cloverleaf at the intersection with Calabogie Road (aka 508). Too many damned cruiser-type motorcycles coming from Ottawa to sashay up Centennial Lake Road. The sports bikes take the 511 and/or Tatlock and turn around at the Bogie General Store. Or so those 'in the know' say.
Except VV. He goes up and down Centennial Lake Road. Up and down, up and down, up and down. Or so I've been told. By whom I won't share.
But all of that has nothing to do with me. Except when they try to run me over (brake free brake light notwithstanding).
~~~~~~~~~
While it was sunny in Almonte, it was 'aggressively misty' throughout Algonquin Park. I took refuge at Webster's Beacon when I reached Dwight (SO warm and cozy and they have made-to-order sandwiches see pics in the Relive).
Thankfully, my friend, motorcycling mentor and riding coach James A. came to 'rescue' me in Bancroft. Heaven knows I might not have made it back home without him. Just kidding.
And then again not. Few things can be accomplished alone, even when done 'solo.' Most things worth doing require a team effort. Thanks to everyone who has supported me over the past couple of years (and decades <3).
Here's the Relive reverse loop:
In addition to the two 600 km+ one-day loops (my longest so far and for a total of 1,200+ kilometres) I marked what-to-me is another significant milestone this week: 52,000 kilometres ridden these past two years, mostly on one of my two Yamaha V-Star 250s.
It's not the end of the 2023 season yet. I'm looking forward to riding my anniversary loop again before the snow flies.
Here's the google maps version of the loop: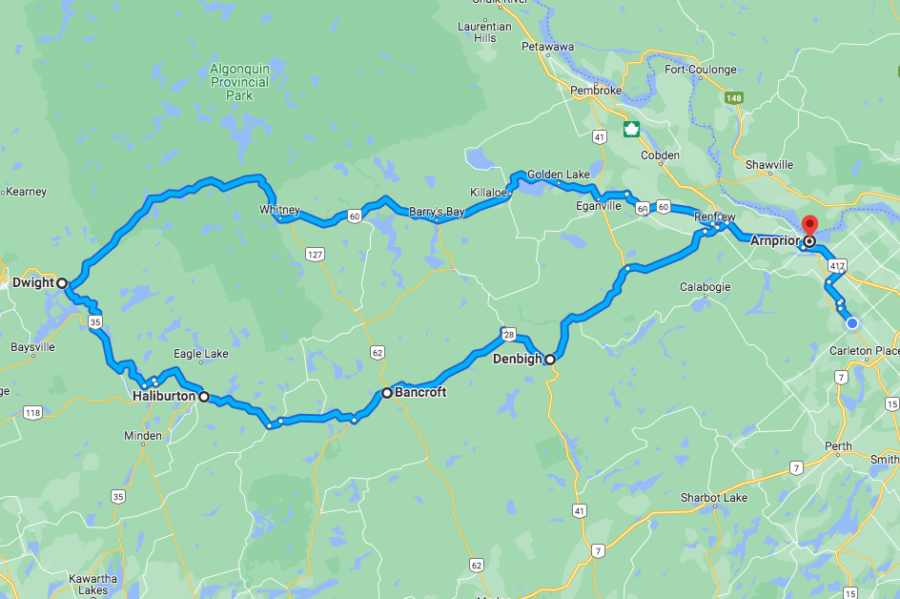 Note: the reverse loop was slightly different at the end 
© 2023 Susan Macaulay. I invite you to share my poetry and posts widely, but please do not reprint, reblog or copy and paste them in their entirety without my permission. Thank you.