25 WOW! Women Rocked TED Global 2014 #TEDWomen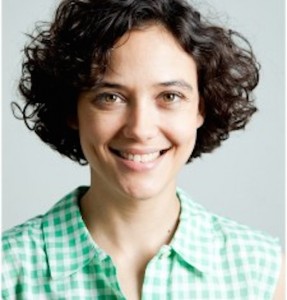 I've been a TEDster for almost a decade, and have had the good fortune of attending TED Global not once but twice. Lucky me!
As a feminist, I also advocate for more women on TED and TEDx stages worldwide.
For the past several years before each TED and TED Global conference I've compiled a list of the amazing women speakers who will take the stage. Women like Pia Mancini, a democracy activist pictured at left, who will speak at TED Global 2014.
Here are links to past lists:
I've also created a list of 300+ TED talks by amazing TED women. It's here.
Here's the list of 25 AMAZING women to grace and rock the TED Global 2014 stage in Rio de Janeiro:
 1) Marie Arana, Biographer and literary critic
Marie Arana: Home Page
Marie Arana (@aranama) | Twitter
Marie Arana – Library of Congress
2) Danay Suarez, Singer / songwriter
Danay Suarez – YouTube
Danay Suarez | Official Music, Photos, Videos & Show Dates
Danay Suarez (@DanaySuarez) | Twitter
3) Zeynep Tufekei, Techno-sociologist
technosociology | our tools, ourselves
Zeynep Tufekci (@zeynep) | Twitter
zeynep (@techsoc) | Twitter
Zeynep Tufekci – Authors – The Atlantic
Zeynep Tufekci — Medium
4) Pia Mancini, Democracy activist
Pia Mancini
pia mancini (@piamancini) | Twitter
Pia Mancini | NewAmerica.org
5) Alessandra Orofino, Political mobilization activist
alessandra orofino (AlexaOrofino) on Twitter
Alessandra Orofino – Huffington Post
6) Taiye Selasi, Author
Taiye Selasi (@taiyeselasi) | Twitter
Taiye Selasi on discovering her pride in her African roots …
7) Severine Auteserre, Peace and conflict researcher
Séverine Autesserre | Department of Political Science …
The Trouble with the Congo Local Violence and the Failure …
8) Doreen Khoury, Grassroots peace worker
Doreen Khoury (@doreenkhoury) | Twitter
Doreen Khoury | Conciliation Resources
9) Charmian Gooch, Anti-corruption activist
Global Witness – Wikipedia, the free encyclopedia
Charmian Gooch (@charmian) | Twitter
TED Prize Winner Charmian Gooch Announces Global …
10) Ameena Gurig-Fakim, Biodiversity scientist
Ameenah Gurib-Fakim -UPMC – University Pierre and Marie …
 Ameenah Gurib-Fakim (@aguribfakim) | Twitter
GURIB-FAKIM, Ameenah (Prof. Ms.)
11) Joanna Wheeler, Social change advocate
Joanna Wheeler – UTSC Blog Site – University of Toronto
Joanna Wheeler on involving the world's poorest citizens in …
12) Grimanesa Amoros, Interdisciplinary artist
Grimanesa Amoros (@grimanesaamoros) | Twitter
Grimanesa Amorós – Wikipedia, the free encyclopedia
13) Ana Tijoux, Singer / songwriter
Ana Tijoux – Wikipedia, the free encyclopedia
ana / anita tijoux (@anatijoux) | Twitter
 Why rapper Ana Tijoux won't be a sex object for her music
14) Ilona Szabo de Carvalho, Policy reformer
Ilona Szabó de Carvalho | Global Commission on Drug Policy
Ilona Szabó de Carvalho – Instituto Igarape
Robert Muggah and Ilona Szabo de Carvalho – Canadian …
15) Melissa Fleming, Voice for refugees
Interview with Ms. Melissa Fleming, UNHCR Spokesperson …
Melissa Fleming (@melissarfleming) | Twitter
Melissa Fleming – Huffington Post
16) Wendy Freedman, Astronomer
Wendy Freedman, world-leading astronomer, joins …
Wendy L. Freedman – Huffington Post
17) Elizabeth Pisani, Author
Elizabeth Pisani – Wikipedia, the free encyclopedia
Elizabeth Pisani (@ElizabethPisani) | Twitter
Ternyata – Public Health Consultancy
18) Sipho Moyo, Africa advocate
Sipho S. Moyo (@Sipho_ONEAfrica) | Twitter
Dr. Sipho Moyo – Huffington Post
19) Teresa Corcao, Chef and heritage food educator
Senior Fellow: Teresa Corção – Synergos
Teresa Corção | Ashoka – Innovators for the Public
Teresa Corção, ecochef: 'O orgânico é a cenoura de …
20) Isabel Hoffmann, Food technology entrepreneur
Isabel Hoffmann | TellSpec's CEO
Isabel Hoffmann (@IsabelHoffmann_) | Twitter
21) Juliana D'Agostini, Pianist
22) Khalida Brohi, Women's rights activist and entrepreneur
Khalida Brohi (@KhalidaBrohi) | Twitter
23) Juana Molina, Musician
24) Kimberly Motley, International litigator
kimberley motley (@kcymotley) | Twitter
US Lawyer Works To Change The Afghan Legal System : NPR
25) Ruslana, Singer and activist
Singer-Activist Ruslana: 'Do Everything' to Avert War in …
Ruslana (@RuslanaOfficial) | Twitter
Ukraine's Ruslana, the voice of the people – The Globe and …
Susan Macaulay created and curates SheQuotes, My Alzheimer's Story,  Amazing Women Rock, AmazingSusan.com, and Succeed With Susan. She is a feminist, global citizen, lifelong learner and the author of Everyday Feminine Wisdom and soon-to-be-published "the dogs' breakfast."