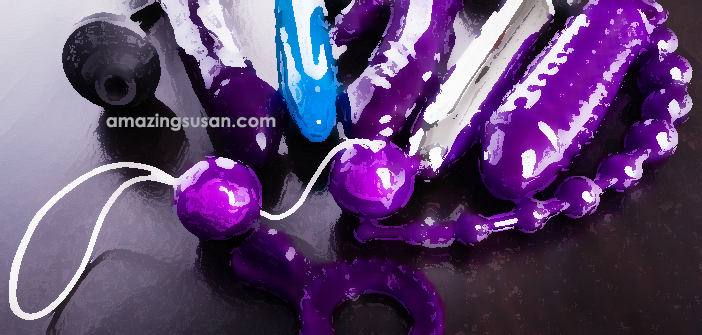 I worked at The Love Shop in Calgary for two years in the early 1980s, long before adult games and toys became the phenomenon they are today. Back then, in Canada, sex toys were still relatively risqué among the general population.
That's no longer the case, at least when it comes to product sold. Consider this 2018 projection from BusinessWire:
The global adult toys market will reach 35.5 billion USD by 2023 from 23.7 billion USD in 2017 with a CAGR of 6.97% during the period.
Nevertheless, many people remain reluctant to admit to having been in an adult toy store or purchased sex toys from wherever (even amazon has a great selection). Why is that I wonder…?
While I continue to ponder that question, here, for your reading and listening pleasure, is a little ditty I wrote in 2016 (and posted in 2019) about working in a sex shop:
at the toy store
© 2019 punkie
at the toy store
when you work in a shop
where sex toys are bought
your mind must be open
to stuff that's verboten
dildos and things
like penis worn rings
are stacked to the ceiling
to breed horny feelings
tight merry widows
cinched at the waist
say "come hither my darling
and let's have a taste"
lubricants, lingerie,
lined up in neat rows
and hey do you know
where a butt plug should go?
lotions and potions
all sweet and sticky
invite patrons to do
what some might call "icky"
tie up your partner
with ropes, leather, and chains
cause him to cry
and "don't stop!" to exclaim
dress in a costume
make-up like a queen
jerk off in secret
and cream in your jeans
"so naughty!" you say?
oh no sir, it's hot!
when you work in a shop
where sex toys are bought
© 2019 Susan Macaulay . I invite you to share my poetry and posts widely, but please do not reprint, reblog or copy and paste them in their entirety without my permission. Thank you.