i found a quilted heart #ifaqh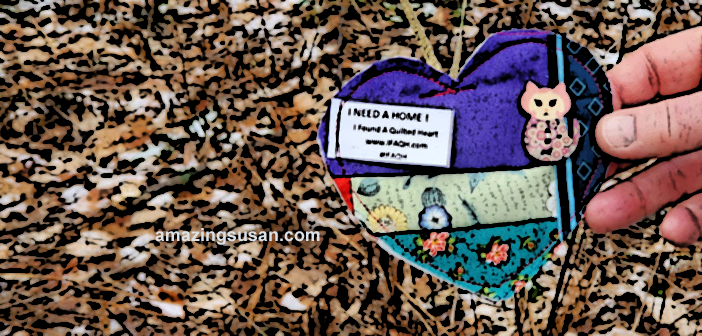 A friend and I were out walking on December 19, 2020, when I spotted something unusual on the side of the trail.
"Look Stephanie," I said. "There's a heart hanging on that tree."
We went over to investigate. The heart had a label: "I need a home," it said. Awwwww. My eyes started to well up, which isn't unusual for me and even more so these days.
"I guess this heart is meant for me," I said to Stephanie. "I can give it a home."
"I guess it is, and I guess you can," Stephanie smiled as she took a picture for me.
When I got home, I went to the website address, which was also included on the label. The "I found a quilted heart" project was born on January 29 (the day after my birthday) in 2014, when some hikers discovered a similar heart hidden deep in the Nevada desert.
From those humble beginnings the project has grown into a magical movement. Close to 18,000 hearts having been reported found in locations around the world.  I bet there are many more that have been found but not reported.
I put this post and poem below on Facebook and included this note:
"To the angel who quilted a heart and hung it on a little tree on the edge of the #OVRT: thank you <3 I will never know who you are and you may never know how deeply I appreciate your anonymous act of love and kindness. Your quilted heart (#ifaqh), which I have given a home, is helping me to heal and to restore my belief in the goodness that lives in most people. I hope this thank you somehow finds its way to you, just as your heart found its way to mine. Merry Christmas and Happy New Year, Susan
Thank you again unknown angel who made this quilted heart and hung it on a tree for me to find on the Ottawa Valley Rail Trail in December 2020. Your love and kindness filled my own broken heart with grace, joy and hope. Such a beautiful Christmas gift.
a quilted heart
by punkie © 2020
a quilted heart
today I found a quilted heart
hanging in a tree
"i need a home"
its label said
"why not, i thought, with me?"
i live alone, there's no one home
other than my self
the heart i'd had
was broke in half
and sitting on a shelf
i wondered if
this quilted one might
help to heal the first
what if all the hurt and pain
could somehow be reversed?
i took it from its leafless branch
and held it in my hand
it hummed and thumped
a drumming tune –
'twas mcnamara's band!
(mom and i had sung that song
ten thousand times in jail:
maybe it's an omen
this quilted gift won't fail)
i put it in my pocket
walked back to my own place
then suddenly a miracle:
i felt all filled with grace
it must have been the kindness
and love stitched in that heart
that gave the one up on the shelf
the courage to restart <3
© 2017 Susan Macaulay. I invite you to share my poetry and posts widely, but please do not reprint, reblog or copy and paste them in their entirety without my permission. Thank you.