11 things i'm grateful for today 20/12/21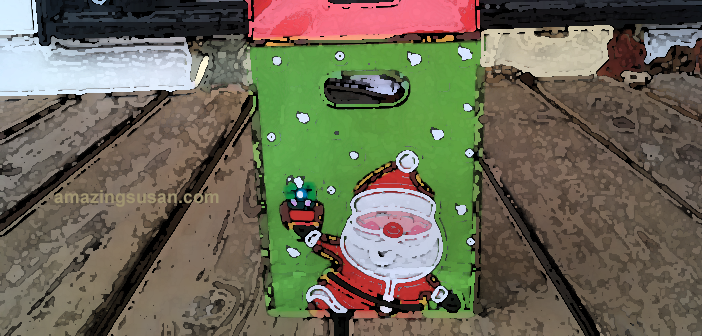 Even in all this COVID Christmas mess, there are moments of joy to be found. Especially in giving and receiving. Here are eleven things I am grateful for today:
I'm grateful to whoever left a bag of goodies on my front deck this morning (see pic above) with a note in the bag saying I'd been "Decked and jingled," and another note with instructions on how I should keep this gift multiplying. I'll probably have more on that later.
I'm grateful for friends, and friends of friends, who came to my home tonight to sing Christmas carols on my front deck, and for giving me advance notice so I could invite neighbours to come along and enjoy the show. Here are carollers singing (incognito!) and spreading joy and happiness.
I'm grateful to the neighbours who joined us, especially the parents and children, to celebrate the season and participate in the singing.
I'm grateful in particular that my new neighbours were able to enjoy the carolling with us. They sent me a quick text immediately afterward to say this was their first-ever carolling experience – may they have many more!
I'm grateful for my therapist, who recently learned eye movement desensitization and reprocessing (EMDR) as a way of treating Post Traumatic Stress Disorder (PTSD). The EMDR therapy is proving highly effective and efficient in reducing the complex PTSD (CPTSD) symptoms I've been experiencing as a result of emotional abuse. I would recommend investigating EMDR if you have PTSD.
I'm grateful I was able to give away some of my mom's treasured Christmas tree decorations to people who will appreciate them.
I'm grateful for candles and that I had a variety of them, as well as containers to put them in, to create a festive atmosphere for the carollers and their appreciative audience.
I'm grateful the rain stopped when the carollers got here.
I'm grateful for grand conjunction, which occurred today, and for the mystery of the stars and astrology.
I'm grateful for the good night's sleep I had last night and for the amazing bed I have to sleep in.
I'm grateful I live so close to the OVRT and that it's so pleasant to walk there. It's a blessing to be in nature, to see others out walking, to stop and chat from time to time, and to make connections with others in my community.
More posts on being grateful here.
#stayhealthy #staysafe
© 2020 Susan Macaulay. I invite you to share my posts widely, but please do not reprint, reblog or copy and paste them in their entirety without my permission. Thank you.