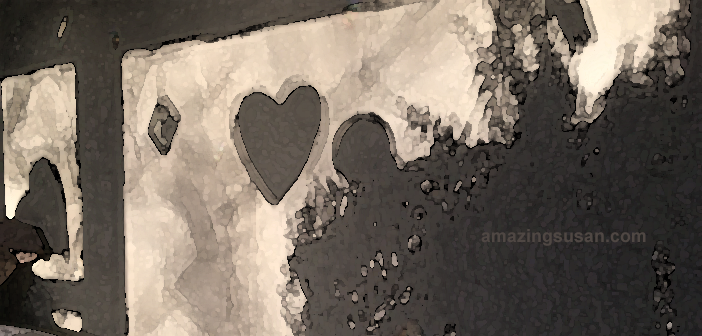 One of the many things I love about winter, besides snow, is the way the light changes.
I am grateful for the way the afternoon sun casts shadows of the hearts I have in my bedroom window onto the opposite wall. The shadows are soft, beautiful and calming. They fill my heart with tenderness, memories and hope for the future.
This poem is about that.
winter shadows
by punkie © 2021
Click on the audio player if you would like to hear me read the poem:
winter shadows
in winter when the sun sinks low
slanted rays through windows flow
casting shadows on the wall
the echoes of an angel's call
hearts and ferns and angles right
lay soft and silent in the light
like love, they too will soon be gone
as curtains sheer are slowly drawn
their ghosts will even disappear
denying they were one day clear
they leave no mark, no telltale sign
that they were ever really mine
and yet, i hold them in me here
for shadows always reappear
© 2021 Susan Macaulay. I invite you to share my poetry and posts widely, but please do not reprint, reblog or copy and paste them in their entirety without my permission. Thank you.