10 things i'm grateful for today 21/04/04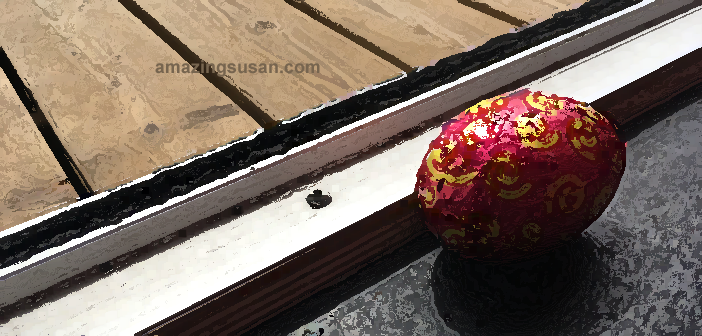 This morning when I opened the door to let Kitty Cat Jax out, I found an Easter egg on the threshold of my door. It made me smile and feel joyful.
On this Easter Sunday:
I'm grateful the Easter Bunny knows where I live.
I'm grateful spring is in the air.
I'm grateful the wasp that stung me this afternoon stung me on the hand and not on the face. Ouch!
I'm grateful my face and my heart are both healing slowly, slowly, slowly but surely.
I'm grateful that I may soon be going on a motorcycle ride – yippeee!
I'm grateful for cocktails with friends yesterday.
I'm grateful I'm healthy today.
I'm grateful the chipmunk the cat chased into the house isn't a rat.
I'm grateful I have a roof over my head.
I'm grateful I'm no longer in an emotionally abusive relationship with a pathological covert narcissist.
More posts on being grateful here.
#stayhealthy #staysafe
© 2020 Susan Macaulay. I invite you to share my posts widely, but please do not reprint, reblog or copy and paste them in their entirety without my permission. Thank you.