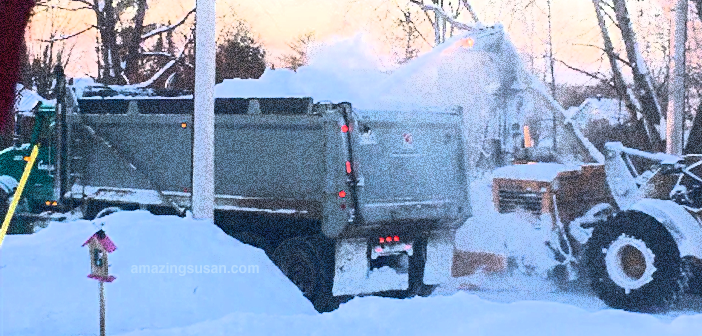 Snow falls in Canada in winter.
Hard working crews clear our roads so we can get around.
We appreciate it. This poem is about that.
snow crew thank you
by susan © 2022
snow crew thank you
the snow's three feet deep
up and down our whole street
we can't get ourselves out
of that there's no doubt
it's frozen and white
blankets all once in sight
with gazillions of flakes
stacked in thick layered cakes
woe is us, neighbours cry
we're stuck here inside
with shovels and picks
that won't do the trick
the mountains of snow
in drifts soon may blow
creating a mess
that will only add to our stress
then, what's that? do you hear?
it's an army my dear
at six in the morning
without so much as a warning
a plow, then a blower
like massive lawn mowers
cut their way through the banks
as if they were tanks
the snow they now throw
into vehicles slow
queued behind in a line
and biding their time
the hours are long
working dusk until dawn
in the dark and the cold
as the winter unfolds
we love what you do
in your snow-moving crews
so we can get out
and travel about
thanks for saving the day
in your dump-truck ballets
by ridding our roads
of these storm-driven loads
( Inspired by the words of Christine Poulin 🙂 TY too! )
© 2022 Susan Macaulay. I invite you to share my poetry and posts widely, but please do not reprint, reblog or copy and paste them in their entirety without my permission. Thank you.