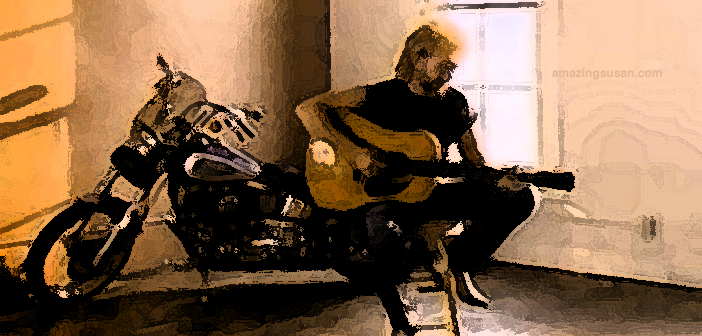 I write with a friend twice a week in winter. Sometimes I write chapters for the book I've been working on for years and that may never be finished. Sometimes I write short stories or rants. Sometimes I just start with a line and a poem emerges. That's what happened on Monday, February 22, 2022.
When it was done, I felt the need to pair the poem with a song. I knew I had heard one that included the lyrics 'nothing at all,' but I couldn't remember what it was. I googled the words. Ha! It was one of a dozen or so that had been used to seduce me several years ago. No wonder the lyrics stuck in my head.
Even more synchronistic, Keith Whitley, the artist who wrote the song, plays it sitting in front of, and then on, his Harley Davidson motorcycle. Other than the stool he's perched on at the start of the video, it's just him, his guitar, and his ride. The synchronicity made me laugh out loud.
The poem is, ostensibly, about nothing at all. But, In an odd way, it's also about everything.
nothing at all
by susan © 2022
nothing at all
this poem's about nothing
it's naked and bare
it doesn't have teeth
a complexion, or hair
it prefers to stay empty
without feeling or thought
it won't be traded or mated
can't be sold, nicked, or bought
this poem is like none
that you've ever read
it rejects all that's living
it prefers to be dead
it hides in the closet
lies under your bed
boggles the mind
and fucks with your head
this poem has no substance
it's a vacuum of sorts
it doesn't do puzzles
or play any sports
it totes guns in its pockets
has a sword and a knife
if you poke it too hard
it might take it's own life
this poem's an enigma
it flouts silly rules
won't go forward or back
it's as stubborn as mules
it won't win any contests
and it couldn't care less
if you find its rhymes wanting
or its stanzas a mess
this poem is a rider
its bike close at hand
picks a solo guitar
no need for a band
it prefers to be silent
don't talk much at all
sings of love without speaking
keeps its back to the wall
this poem is its own
kind of specialty verse
can't be cut by a surgeon
or cured by a nurse
just leave it alone
to be wonky and strange
it is what it is
only slightly deranged
More about Keith Whitley and the tune here.
© 2022 Susan Macaulay. I invite you to share my poetry and posts widely, but please do not reprint, reblog or copy and paste them in their entirety without my permission. Thank you.