motorcycle rider saves kitten #love #love #love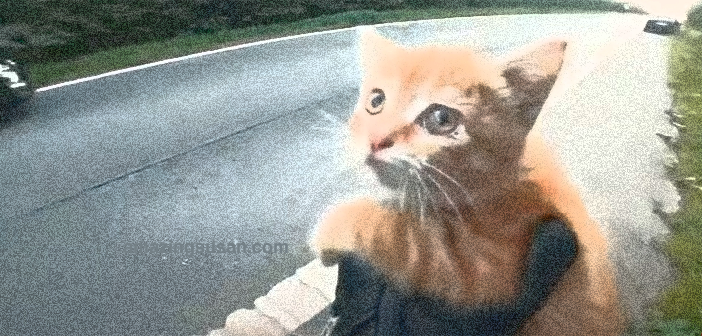 According to the YouTube video description, this incident occurred in Mons, Belgium. The video was posted on YouTube in 2019; as of February 14, 2022, it had more than 12 million views.
Valentine's Day seemed like a good day to share it with you <3
Note: I've provided an English translation below the video for non-French speakers.
Rider says to himself: No! There's a kitten in the middle of the road. It can't be.  (He pulls over, gets off his bike, and runs back to where the kitten is crouched in the road)
No.
[To the kitten]: Come here you. Come here. Little Loulou, What are you doing here? Oh, Loulou.
Car driver: What happened?
Rider: I don't know. I picked him up, but I can't take him with me. Unfortunately, I'm allergic to cats. But I couldn't leave him there. [To the kitten]: What's wrong my little Loulou?  [To the car driver]: He got lost or somebody left him here. How could he end up here?
Car driver: Give him to me.
Rider: You're going to take him?
Car driver: Yes.
Rider: Oh thank you, sir. He's caught. Gently. It's strange that he's here in the middle of everything. He's so cute. Thank you so much.
Car driver: [Getting in the car] I hope he speaks French.
Rider: [Laughs] Have a nice day. Goodbye.
© 2022 Susan Macaulay. I invite you to share my poetry and posts widely, but please do not reprint, reblog or copy and paste them in their entirety without my permission. Thank you.