Baker Bob celebrates 25th anniversary with starring role in puppet show. Sort of.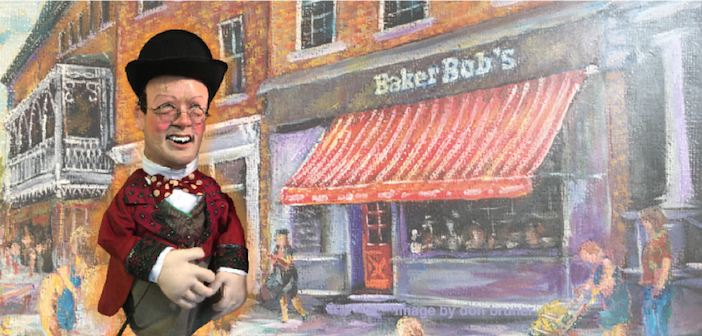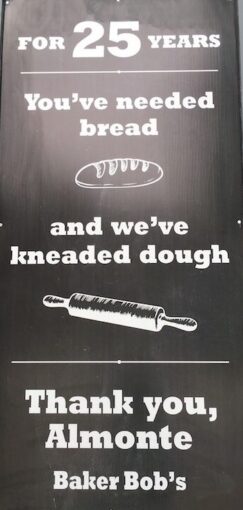 On April 23, 2022, Baker Bob marked 25 years of business in Almonte.
He's got all kinds of special stuff in the works not the least of which is a starring role as Dr. Watson in Sherlock Holmes and the Hound of the Basketballs. In a roundabout way.
It's not actually Bob playing Dr. Watson. Rather, it's Bob's signature caricature puppet brought to life by long-time puppeteer Stephen Brathwaite who performs Watson in the show, which, as everyone in Almonte should know by now, is playing at the Old Town Hall May 12 – 15 (get your tickets here).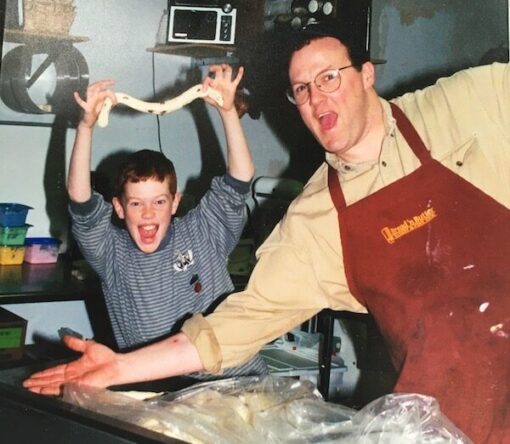 "I might be biased, but I think it's fair to say that Baker Bob's has become an institution here in Almonte," Bob's son Joey Graff told me recently before a show rehearsal.
The younger Graff is doing a fine job of directing the production in which his father's puppet plays the lead role.
Yes, Sherlock Holmes steals the headlines, but it's actually Watson who is the central character in this original production written by Allan Martin. Ever community minded and a supporter of the arts, Baker Bob is also one of five sponsors of 'the Hound.' I asked him if the sponsorship had anything to do with son Joey directing the production.
"I'm proud of Joey and the fact that he's directing the show," Bob said. "But I would have been on board even he wasn't involved. Baker Bob's has supported many events over the last 25 years, and we're happy to do so. That's what it means to be part of a community. It's not a one-sided relationship."
Bob's caricature puppet isn't the only one in the family.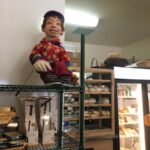 Master puppeteer Noreen Young also made a puppet likeness of son Joey when he was a youngster and the Graffs owned and operated the Candy Store.
That one (pictured at left and nicknamed "Jellybean Joe"), sits atop a shelf at Baker Bob's where he keeps a close, albeit silent, watch on the comings and goings in the store.
Sherlock Holmes and the Hound of the Basketballs is very fortunate indeed to have Joey Graff as its director and Baker Bob's as a sponsor. It's wonderful that the puppets, the people and the production have come together in such a synchronistic way during Baker Bob's 25th anniversary year. Congratulations!
Special thanks to fine artist and FB friend Don Bruner for agreeing to the use of his painting of Baker Bob's.
Tickets to Sherlock Holmes and the Hound of the Basketballs (and Puppets Up!) may be purchased here: ticketsplease.ca
© 2022 Susan Macaulay. I invite you to share my poetry and posts widely, but please do not reprint, reblog or copy and paste them in their entirety without my permission. Thank you.