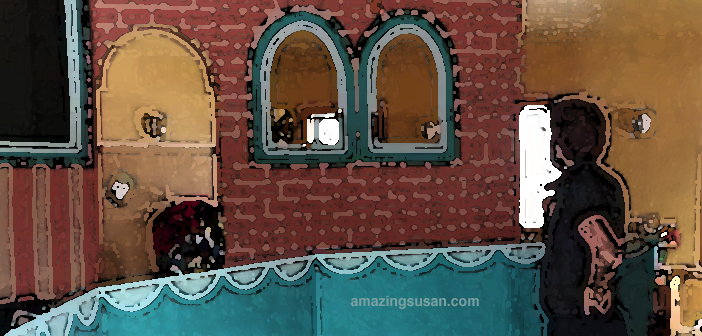 "I don't know anything about puppetry, but I do know how to build things," Bill Levesque tells me during a zoom call.
Levesque, who, coincidentally, lives across the street from master puppeteer Noreen Young, built the set for Sherlock Holmes and the Hound of the Basketballs in his garage. When I heard they were neighbours, I automatically assumed the infinitely persuasive Young had roped Levesque into the set-building project. I was wrong.
"I can't remember now where I saw it, maybe on The Millstone, but I filled out a form almost a year ago when they asked for volunteers for a Puppets Up revival," Levesque says. "I listed my carpentry and building skills and Noreen contacted me. I guess the fact that we're friends eased the process, but it was filling out the form that set the wheels in motion."
That's how things happen in Almonte. It's a place where folks pitch in and get things done.
*****
Builders work from plans. In the case of theatrical productions, a set designer visualizes and draws the look and feel of the stage environment and then creates the plan.
It struck me that the same process used by one of our five show sponsors, Ottawa-based Cleland Jardine Engineering, applies equally to puppet show set building. Mike Cleland, Director New Construction Department at Cleland Jardine, confirmed that thought.
"Yes, just like your team built the Hound show from an idea in someone's head to words on paper to a physical space in which performers and puppets can move and entertain audiences, we design and build infrastructure in communities across Canada," Cleland said. "We transform ideas and concepts into bricks and mortar structures such as storage facilities, fire stations (like the one here), apartment buildings and corporate headquarters."
In the case of the Hound production, Noreen Young designed the set. The main challenge she faced was the number of different scenes – nine in each of two acts, 18 in total.
If you've ever been to a play, you know that the physical set usually alters in some way when the scene changes. Sometimes an entire act will take place in one location – a living room, a kitchen, in the street, in a park, for example. When the action moves to a new location, the set is modified. But there's no way to make 18 set changes in a 90-minute show.
Another challenge was the number of characters (26) and the number of puppeteers (nine) all of whom move around a lot throughout the production. Young's solution was to make the set simple and functional.
"I designed it with the puppeteers in mind," she explained to me. "There are two levels. A lower level where the puppeteers sit on rolling stools, and an upper level where they stand and appear at openings. It's in a kind of half-moon crescent shape with about four feet between the lower front level and the back upper level. There are two curtained doors that allow the puppeteers to move between the two levels."
The entire set is about 16 feet wide and about 10 feet deep. The panels that comprise the front level are four feet high. The puppeteers sometimes sit on small rolling stools between the shorter front panels and the taller back panels, which are eight feet high on the sides and nine feet high in the middle. Other times they stand behind the back panels (i.e. the second level), and show the puppets in windows on the wings of the upper level.
Here's a short video clip to illustrate:
As you might imagine, all of this takes a tremendous amount of choreography and that's why so much time is spent rehearsing.
But back to the set.
Young painted it in a neutral palette to show off the colourful period costumes designed and fabricated by Ingrid Hamster. The strategy works beautifully as you will see when you come to the show! Tickets may be had here.
Speaking of fabrication, Bill Levesque, who retired in 2000 and enjoys woodworking as a hobby, built the Hound set, which is made primarily of plywood panels held together by brackets, particle board supports and screws.
"Noreen built a maquette, a scale model, and I worked from that," Levesque told me. "I built it over the winter in my garage and I had a big window of time to do it in. It probably took about 30 hours in total to put it together. It came alive when Noreen painted it."
When it was done, a couple of Levesque's hockey buddies helped him move the set to our rehearsal space. The same buddies will help him take it down and reassemble it at the Almonte Old Town Hall on May 9, three days before opening night on May 12.
"I brought my grandchildren to Puppets Up! when it was on before," Levesque said as we signed off. "I'm looking forward to the May show and of course the festival in August."
So are we, Bill!
Tickets to Sherlock Holmes and the Hound of the Basketballs (and Puppets Up!) may be purchased here: ticketsplease.ca
© 2022 Susan Macaulay. I invite you to share my poetry and posts widely, but please do not reprint, reblog or copy and paste them in their entirety without my permission. Thank you.