harley guy okay with hondas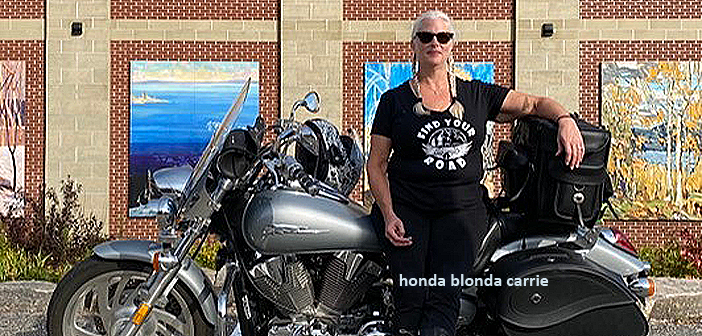 A Harley rider named Michael commented on a post I had written for the  Toronto Spring Motorcycle Show's Second Annual Biker Poetry Contest and shared on my Facebook page; he wrote:
"I ride a Harley, she rides a Honda, she took off her helmet I saw she was blonda, do the curtains match the carpet? we can only wonda…"
Cheeky! I laughed out loud as I read it.
What else could I do but write a poetic and equally cheeky reply?
And when I asked members of the WindSisters Canada and International FB group if there were any honda blondas among us, Carrie (pictured above with her Honda VTX1300) and Stacey (pictured below with her Honda Shadow 750) graciously volunteered photographs to be paired with my poem.
Thanks Stacey, Carrie and Michael <3
blondas on hondas
by susan © 2023
Listen here:
Read here:
he says he loves harleys
and then again blondas
as long as they ride,
it could even be hondas
but oh wait, there's a trait
it's important it seems
that the colours compare
to the schemes in his dreams
the one that's above
should match the other below
but whoTF cares?
we all want to know
biker women are special
they're a breed on their own
they've no need to align
or their colours to clone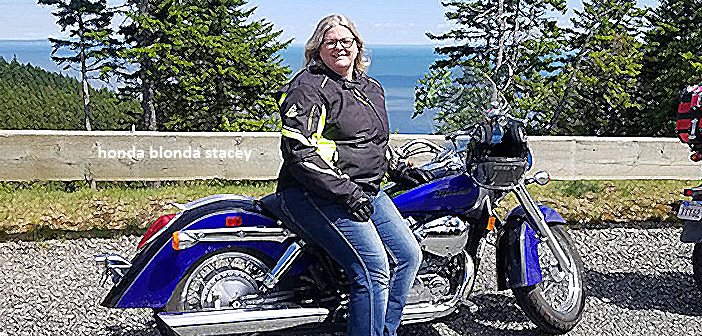 © 2023 Susan Macaulay. I invite you to share my poetry and posts widely, but please do not reprint, reblog or copy and paste them in their entirety without my permission. Thank you.