bison bits, hay bales and road snakes.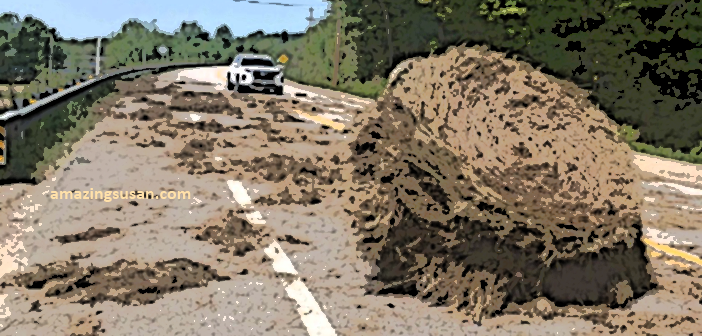 "They have Bison Donairs."
Anne was salivating at the very thought. She's a foodie. She had a huge grin on her face.
"Yep. This place is a destination not to be missed," she continued.
That's how we ended up at the Café Downtown in Fort-Coulonge, QC, on a Saturday afternoon in May.
I'm mostly vegetarian, so I had the Greek Salad. Honestly? Best I've ever had besides my own homemade. It didn't have lettuce in it. No REAL Greek salad has lettuce in it, yet that's how most restaurants serve it. Not the Café Downtown. The salad was as it should be: tomatoes, cucumber, onions, black olives and feta cheese perfectly coated in excellent dressing. Yum.
Meanwhile, Anne devoured her Bison Donair. We agreed we'll be going back someday soon for seconds.
And hay, for the record, bison wasn't the only unusual thing we encountered on our loop.
I was reminded (yet again!) that constant attention is critical for #safemotorcycleriding. We came around a corner on the 148 (QC) to find that one of those giant cylindrical hay bales had fallen off a carrier moments before. Scattered hay covered both lanes not to mention the bulk of the bale sitting near the middle of the road. We stopped after the fact to take a pic.
There was lots of additional roadkill throughout our ride including racoons, porcupine, birds and squirrels. Hazards aside, it was so much fun that, after leaving Anne post river crossing at Quyon, I scooted home for a nap and then went out again for a couple of hours in the early evening during which a yearling deer crossed not far in front of me on a backroad near Lanark – another reminder to ride safely.
Some of the day's highlights are in the Relive video below.
#roadtrip
© 2023 Susan Macaulay. I invite you to share my poetry and posts widely, but please do not reprint, reblog or copy and paste them in their entirety without my permission. Thank you.