48 pictures of the wall between Israel and Palestine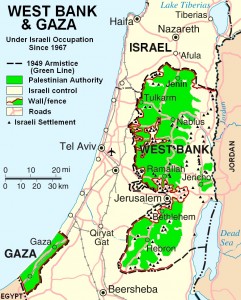 I visited Ramallah in Occupied Palestine's West Bank in spring 2011 to attend a TEDx conference.
Getting there overland was onerous and I spent six hours at the border crossing where I had my passport taken, was interrogated and humiliated by Israeli immigration officials, had items stolen from luggage, and witnessed the humiliation of others.

While in Occupied Palestine, I felt the terror and oppression the Palestinian people are subjected to every day at checkpoints.
I ate with Palestinians. I saw the poverty. I felt the despair. I heard the stories of people who had been robbed of everything but their will to fight.
I saw the wall. I walked in its shadow. I touched it. I read the graffiti. I took pictures.
I witnessed the desperate plight of people trapped in a tragedy of unfathomable proportion.
While I abhor violence it became crystal clear to me why some Palestinians choose to kill themselves and others in suicide bombings. Their situation appears to be so utterly hopeless, and it just seems to get worse.
There's little I can do to change their plight. But in a visual show of support, I'm posting the pictures I took in 2011 in support of Palestinians and in particular the people of Gaza:
Ten years ago this month (July 2014) the International Court of Justice (ICJ) ruled this wall is illegal. 
On July 9, 2004, at the behest of the UN General Assembly, the ICJ, legal arm of the United Nations, indeed issued an Advisory opinion saying "the construction of the wall (by occupying power Israel), and its associated régime (imposed on the Palestinians), are contrary to international law." 

The ICJ Advisory deemed that "Israel cannot rely on a right of self-defense or on a state of necessity to preclude the wrongfulness of the construction of the wall."  

Its ruling called for the barrier to be removed, for residents to be compensated and for UN member States, including Canada, to act to obtain Israel's compliance with the Fourth Geneva Convention (GCIV) — of which Canada is a signatory.
 More pictures and history here and here.
It seems to me that breaking down barriers instead of building them is a a more sensible way forward…
Besides going a little crazy in a good way, Susan Macaulay created and curates Amazing Women Rock, SheQuotes and My Alzheimer's Story.