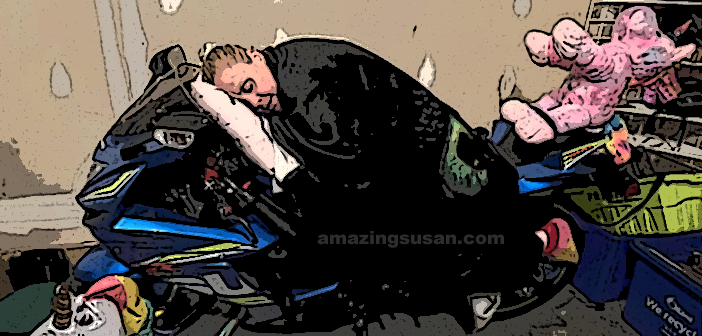 Some riders, like my friend Sabrina, choose to hibernate during the winter months when they are unable to ride.
This poem is about that.
sweet dreams
by susan © 2023
Read here:
sweet dreams
"i just want to ride," she said
and then she lay her blondie head
upon a pillow on her bike
like some little played-out tyke
she closed her eyes and went to sleep
from now to spring, it's counting sheep
no more antics, no more fun
until the devil's rain is done
except to plunge with polar bears
raising funds because she cares
then once more she'll hibernate
knowing soon will come the date
when she'll awake to ride again
with unicorns and moto friends
© 2023 Susan Macaulay. I invite you to share my poetry and posts widely, but please do not reprint, reblog or copy and paste them in their entirety without my permission. Thank you.