There are some words that, when you read them, seem to speak to your soul right now at this moment, despite the fact that they were first written days, decades, sometimes even centuries ago.
These are such words for me today:
Your head is humming and it won't go
In case you don't know,
The piper's calling you to join him,
Dear lady, can you hear the wind blow,
And did you know
Your stairway lies on the whispering wind.
From Stairway to Heaven, composed by guitarist Jimmy Page and vocalist Robert Plant for Led Zeppelin's fourth studio album
There are some images that once you see them remain indelibly imprinted in your mind's eye, even if you only ever see them once and never more.
I call this one Stairway From Heaven: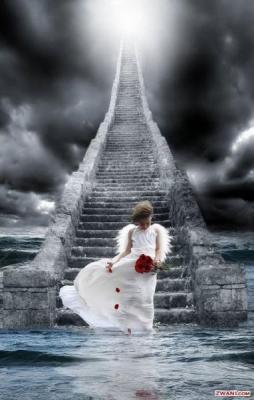 There are some songs that, no matter how many times you hear them, leave you feeling haunted yet hopeful.
According to Wikipedia, Led Zeppelin's Stairway to Heaven:
…was voted #3 in 2000 by VH1 on their list of the 100 Greatest Rock Songs. It is the most requested and most played song on FM radio stations in the United States, despite never having been released as a single there. In November 2007, through download sales promoting Led Zeppelin's recent Mothership release, the song hit #37 on the UK Singles Chart.
Stairways & Heaven. Whether you are coming, or going.