11 things i'm grateful for today 21/12/21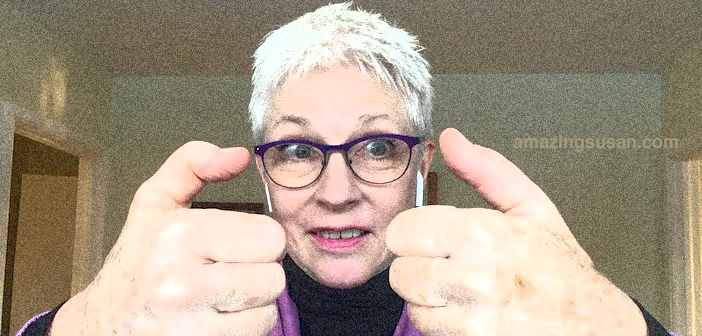 I wish The Fox and I hadn't crashed in early November. And I wish I hadn't suffered a broken left wrist and dislocated thumb, which I learned this week had also been broken (the physiotherapist told me; the doc forgot to mention it) as a result. But we did and I did and now I'm working hard to heal it all so we can ride again in the spring.
It's going to be a longer row to hoe than I had expected.
The picture above shows how much flexibility I've lost in the joint closest to the nail, which is where the break was. As you can see in the pic above, I'm trying my best to will it to bend, but hmmmm, it's just not cooperating. Still, I'm thankful that it wasn't worse.
11 things I'm grateful for today
I'm grateful for the physiotherapy that's helping me to heal my broken wrist and thumb, and for the psychotherapy that's helping me to heal my broken heart and bruised spirit
I'm grateful I can do many more things with my left hand this week than last; things such as roll up my right sleeve, do the dishes (with both hands), open a door (sort of), put mascara on my left eyelashes without poking my eye out, put paste in my hair, lift light things like an empty mug or saucepan, wash both hands, pull up my thong, my tights and/or my trousers (oops TMI LOL?)
I'm grateful for the life of my Uncle Eddy whose birthday it is today and who died in 2020. He was a super nice guy who always saw the best in everybody and had a great sense of humour. He was kind and generous and loved by so many especially by my mom <3
I'm grateful for the COVID third dose / booster I got yesterday afternoon
I'm grateful I feel healthy, happy and well today
I'm grateful for zoom chats with long-time friends in the UK and Ireland and more recent friends in Oakville
I'm grateful that Kitty Cat Jax came to live with me about a year ago and we are starting to get used to each other although I really wish he would stop biting me LOL
I'm grateful for poetry and the writing of it
I'm grateful for the wind chimes hanging from the inside of the weeping mulberry bush that grows through the deck at the front of my little house. The chimes used to live outside Mom's front door at the big red brick house on the hill
I'm grateful I own a house
I'm grateful I'm not in an emotionally abusive relationship with a covert narcissist and that I can use my experience to remain free and to help others escape
More posts on being grateful here.
#stayhealthy #besafe #begrateful #begood #dogood
© 2021 Susan Macaulay. I invite you to share my posts widely, but please do not reprint, reblog or copy and paste them in their entirety without my permission. Thank you.