bums in seats behind the scenes too!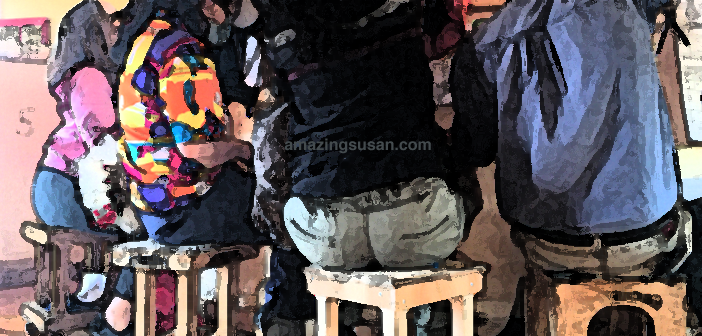 You may have heard the term 'bums in seats' before. It's an expression theatre and concert producers often use when talking about filling halls or venues with audiences for their productions. It's no fun for anyone to perform in front of an empty hall – ya' need peeps in the seats!
Speaking of which, you can buy tickets here to Sherlock Holmes and the Hound of the Basketballs. #shamelessplugforourshow
In our kind of puppet show, you'll find bums in seats of a sort behind the scenes as well as in front of the stage. The be more precise, they are bums on little rolling stools as I described in the sixth item on the list of 7 Things to Know About Puppet Shows in the May 2022 issue of the Humm. Thus:
6) Ever wonder how hand puppets magically walk, hop, skip, stroll or dance behind a four-foot-high set from one part or side of a scene to another? Easy. They don't. Their puppeteers "carry" them on their arms while rolling on stools — sturdy wooden cubes with wheels on the bottom. The puppeteers sit on the cubes and, using their feet to propel themselves, roll forward or backward or spin around as need be. It can be a bit like bumper cars at the fair when three or four performers and their puppets are acting out a scene. Much choreography and diligence are required! And here's another interesting tidbit: each puppeteer has his or her own stool, because the stools are various heights.
The full article with the other six things you should know is here.
Also, you may see a video of the behind-the-scenes dance of the puppeteers here. Enjoy.
Tickets to Sherlock Holmes and the Hound of the Basketballs (and Puppets Up!) may be purchased here: ticketsplease.ca
© 2022 Susan Macaulay. I invite you to share my poetry and posts widely, but please do not reprint, reblog or copy and paste them in their entirety without my permission. Thank you.