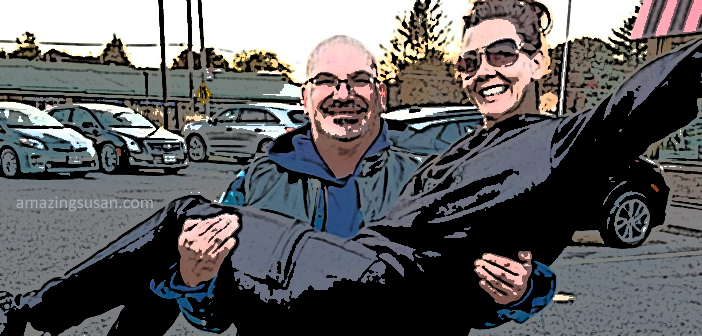 For Franco Lenzo on his birthday August 2022.
(Listen to the spoken word by clicking on the audio player or read the words below.)
#hunkofalenzo
by susan
© 2022
Listen here:
Read here:
#hunkofalenzo
ohmygod! he's so hot
it's a pity he's not
on the market and ready to wrangle
he's the kind of a guy
that makes horny girls…sigh
and wish they were with him entangled
but there's nary a chance
of a franco romance
unless it's some kind of try-angle
he's been decades with tracey
who's so fucking racey
he won't be lured by someone new fangled
it's said that she grows
long hard nails on her toes
to scratch his back, while on hers, when his itches
she feeds him omellettes in bed
paints those damn toe nails red
and refrains from being one of them bitches
she named him 'the hunk'
when she first saw his junk
now the nick has become a hash tag
on his pole he's been known
to proudly have flown
a teeny tiny canadian flag
he's at all of the meets
talkin' everyday street
in bunches of pics with his peeps
lady riders they swoon
as they dance to his tune
and collapse at his feet in huge heaps
but no problem!
he turns on the charm
scoops them up in his arms
shows off by doing deep knee bends
and hey, by the way,
he's famous they say,
plays guitar on evenings and weekends
fans queue and wait
in the hopes of a date
with the funkiest, hunkiest dude
hoards of bros, sexy sistahs
they all call him mistah
and want to be part of his crew
he's top of the charts
in our minds and our hearts
yep he is, that old #hunkofalenzo
lives his life in the fast lane
rides his bike like a freight train
keeps on being the star of the show
© 2022 Susan Macaulay. I invite you to share my poetry and posts widely, but please do not reprint, reblog or copy and paste them in their entirety without my permission. Thank you.