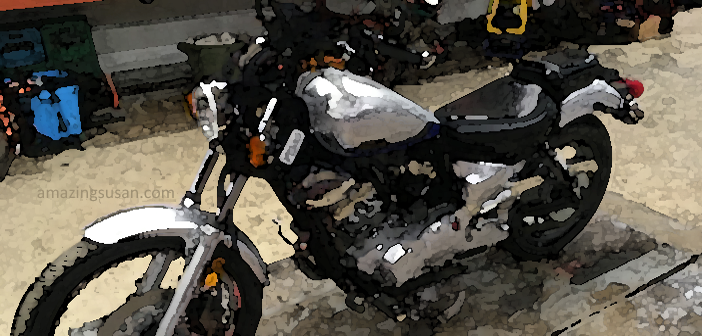 August 21, 2022: A year ago yesterday, I bought a motorcycle.
At the time (August 20, 2021), I hadn't ridden a motorcycle for more than twenty minutes in fits and starts that took me no further than a cumulative kilometre in a parking lot at a three-hour Ottawa Safety Council introductory course.
That was two weeks before the purchase. I hadn't learned to ride a motorcycle in that three-hour introductory session. Surprise, surprise.
The first time I got on The Fox – that's what I named her – I was in tears before I made it to the stop sign at the street corner less than 10 metres from the end of my driveway. They were not tears of joy. Somehow I managed to bunny hop her, literally, around the neighbourhood. I dropped her three times in the process, which took a couple of hours.
On the weekend of September 11 (an inauspicious date to be sure), I did not pass the two-day Ottawa Safety Council M1 Exit test on the second day of the course, ostensibly because I was too slow. No surprise there either. I don't like speed.
Undeterred, I kept practicing on my own after the disappointing weekend. (Note: I have deliberately not used the 'F' word in reference to not passing the test because i don't think I failed – I think I was remarkably successful under the circumstances.)
On November 4, I fell down and broke my crown. That marked the end of my 2021 motorcycle-riding season. I wouldn't be in the saddle again until the third week of May 2022.
In mid-June, I passed the M1 Exit test when I participated in the Ottawa Safety Council course for a second time. At the wire, I had to repeat two of the eight elements in the test because I was, once again, too slow. The irony! Anyway, I now have my M2 motorcycle licence.
Today, August 21, 2022, The Fox and I went out for a 90-minute Sunday morning spin. I can't bring myself to use the word 'rip.' I rode solo, as I usually do.
Not far from home, the odometer approached 10,000 kilometres. I stopped to take a picture of the milestone. It's in the video here:
Early this evening, The Fox and I went out again; this time just before sunset – also for about an hour and half, as we did this morning.
I've spent more than 200 hours riding this motorcycle and I'm just now beginning to feel comfortable. Not completely comfortable. Not relaxed comfortable. But comfortable enough to make it more fun than terrifying – like it was when I first started. That I got past the terror is something I still marvel at.
I never aspired to piloting a motorcycle. I wanted to ride as a passenger, but I couldn't find people to take me as often as I wished to go. If I want to be on a motorcycle, I thought, I will have to learn to ride one myself. So I learned. Not without hard work, considerable expense and a few injuries. My broken wrist and thumb will never fully heal. I know that. They are perpetually painful. Oh well. Perhaps one day I will die in a motorcycle accident. The chances are, tragically, pretty good that I will. Especially at my age. But death on a motorcycle is a damn sight better than some of the alternatives 🙁
Just like I didn't want to pilot a motorcycle, I also didn't wanted to give up my life in Dubai in 2011.
But my brother wasn't taking care of my mother who was living alone with dementia in a big house in rural Quebec. So I came back to Canada to care for her myself. It was the hardest thing I've ever done. I never wanted to be a mother, let alone a mother my own mom. I devoted the next five years to advocating for Mom and for better healthcare for elders in Canada. I don't regret those decisions despite everything. In fact, I feel lucky to have been with her and to have learned so much.
There's something to be said for being brave and taking risks. I've also discovered it's critical to know if, when and with whom one should do so. It can make the difference between life, death and having yesterdays and last years to look back on.
In my experience, it's both difficult and joyful to choose wisely.
© 2022 Susan Macaulay. I invite you to share my poetry and posts widely, but please do not reprint, reblog or copy and paste them in their entirety without my permission. Thank you.
5 powerful dementia care lessons i learned being my mom's care partner
10 important facts i learned about people living with dementia from being my mother's care partner