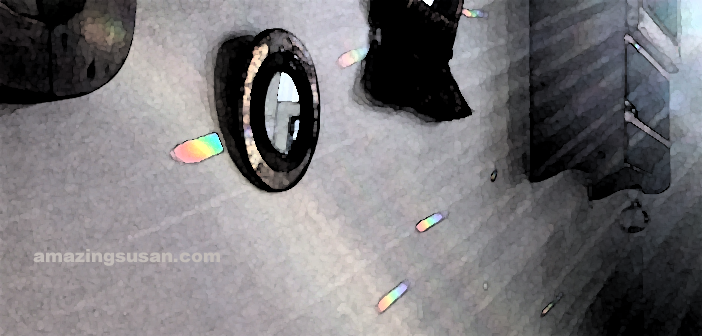 One of the things I love about winter is the way the low-hanging sun causes the crystals in my windows to shoot rainbows throughout my little house, especially in the afternoons.
Seeing the rainbows makes me feel joyful.
This poem is about that.
spectra
© 2019 punkie
spectra
i love the rainbows
on my walls
some are long
and others small
the long ones stretch
like rubber bands
or ocean waves
on golden sands
the smalls are brightly
coloured dots
mini spectrums in
in focussed spots
they all have purple,
green, yellow and red
they slip and slide
beside my bed
kitty cat may
give them chase
to put inside his
jewellery case
he doesn't know
they can't be caught
corralled or caged
or even bought
they're gifts of light
from cuts in crystal
bullets from
some solar pistol
© 2023 Susan Macaulay . I invite you to share my poetry and posts widely, but please do not reprint, reblog or copy and paste them in their entirety without my permission. Thank you.