when old new friends meet again…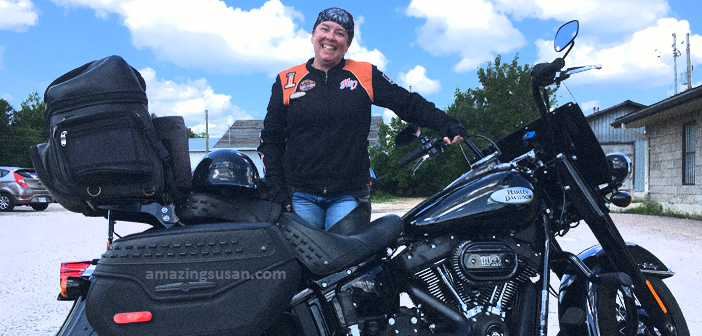 Annick and I met on either side of a gas pump at the Esso station in Almonte on September 9, 2022.
We were both riding Yamahas at the time. We struck up a conversation, exchanged cell numbers, said we should ride together sometime. That was the last we saw or heard of each other. Until today, eleven months later.
I was in the Bogie General Store parking lot talking to a couple of sport bike riders while we waited for the queues at the pumps to subside. Predictably, on the Saturday morning of a long weekend, it was like Grand Central Station: bikes, trucks, cars, ATVs, boat trailers – you name it – converged at the intersection of the 508 and the 511.
Amidst the circus, a lone woman rider pulls in on a Harley. She looks vaguely familiar. We are the only two women amidst a sea of boys and their toys. She waves. I wave back. She stops half-way across the parking lot from where I am, gets off her bike, heads over to the heads (aka port-a-potties).
I continue chatting with the two young sportsters while observing the controlled chaos of the parking lot. A few minutes later, I notice the lady Harley rider walking back to her bike. I call out to her as she does:
"Hey, what's your name?"
"Annick," she says. "Is that you Susan?"
"Yeah!" I laugh.
She makes her way directly over to me. We exchange a big hug.
"You've been on my mind," I say.
"Moi aussi! I have also been thinking of you."
"Where are you going?" I ask.
"My cottage in Fort-Coulonge," she says. "You?"
"I was on my way to Barry's Bay," I say. "But I'm flexible. Maybe we could ride together…?"
"Yes! Let's to that." Her reply is immediate and enthusiastic.
It takes us a few minutes to agree the change in our respective routes and we're off.
"It's funny," Annick says when we take a comfort break just before crossing the bridge into Quebec, "I always stop for gas in Almonte when I come to ride here. But today for some reason I decided to keep going to Calabogie. I never do that. I guess we were meant to reconnect.
I guess we were. I am struck by the incredible contrast between this encounter and the one I experienced just a few days before…
© 2023 Susan Macaulay. I invite you to share my poetry and posts widely, but please do not reprint, reblog or copy and paste them in their entirety without my permission. Thank you.