are kilometers worth crowing about?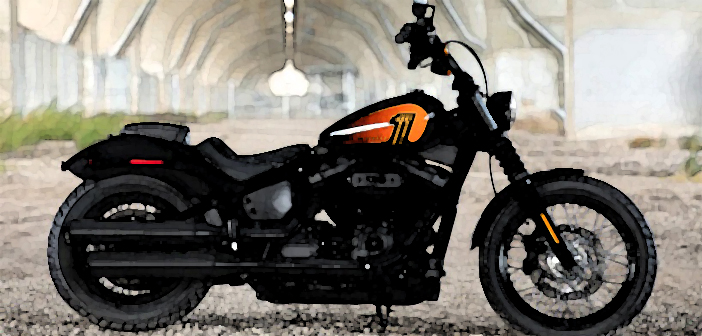 When I #RideTheHighlands, which is frequently, I often pitstop coming or going or sometimes both in Calabogie at The Calabogie Brewing Company, The Redneck Café or the Bogie General Store.
If there are other riders around, I usually try to strike up a conversation. Some are more willing to engage than others. So it was this past Wednesday when I stopped to stretch my legs during my circuitous route back to Almonte.
There was a lone blacked-out bike sitting by the gas pumps at the opposite end of the General Store parking lot. I could see it had an orange graphic on the gas tank, but it was too far away for me to decipher the wording. I decided to investigate.
I didn't see its owner until I was close enough to touch the bike, a Harley Davidson 114 according to the graphic. She was standing about twenty-five feet away in the long afternoon shade cast by the store and eating something from a bag. Maybe chips from the food truck?
Our conversation began with the standard stuff.
"Nice ride," I said.
"Thanks," she said.
"Where you headed?"
"Petawawa."
"You got a ways to got yet," I said.
"Nah. I ride four- or five hundred-kilometer loops."
I nodded. Stayed quiet for a bit. Gave her a chance to ask me something. She continued to eat.
"Where you from?" I picked it up again.
"Petawawa."
Again, I waited for her to do more than reply to my questions. Still, she continued to eat.
"Bike's real clean," I said, mentally comparing its blacker-than-black exterior to my dead-bug-encrusted windscreen. "Is it new?"
"Nope. Put about 10,000 kilometers on it every year," she said.
Her tone suggested that 10k was quite an accomplishment, one with which I should be impressed.
I might have shared that I was 150 kilometers away from riding 20,000 so far this year. Or that I rode 21,000 kilometers last year in my first season. But I didn't.
"Wow," I said.
"I ride The Highlands a lot," she said. "There are tons of great roads in The Highlands."
"Yeah, I know," I replied.
Enough idle chitchat.
"Well, I'd best be off," I said. "Ride safe."
"Thanks," she answered.
I walked back across the parking lot, geared up and got on TheFox.
She was still there when I pulled out onto the 508 headed toward Burnstown for the last leg of my 'infinity loop.'
© 2023 Susan Macaulay. I invite you to share my poetry and posts widely, but please do not reprint, reblog or copy and paste them in their entirety without my permission. Thank you.