blue's last loop this season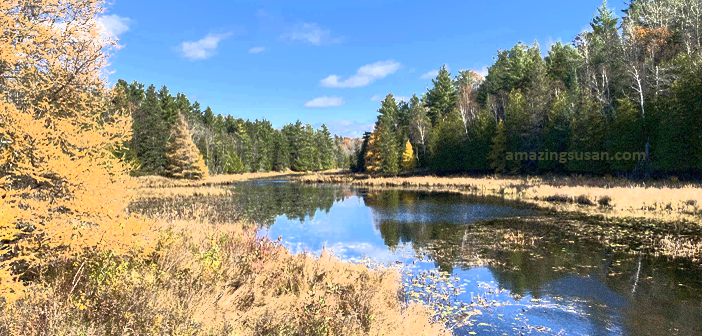 I was supposed to ride with Chuck Warnes and Keith Green of the Ottawa Motorcycle Misfits FB group. As promised, they texted at 10:00 am to tell me where they were going (Bobs Lake) and said they would pick me up at the Timmy's (where else?) in Almonte.
But I was already headed toward Perth (via Tennyson Road), having decided last minute to take Blue to her winter abode in the afternoon and wanting to be in full and sole control of my time. I also had a specific minimum mileage target in mind. Apologies, Chuck and Keith.
This is the loop I chose (the Relive video is below):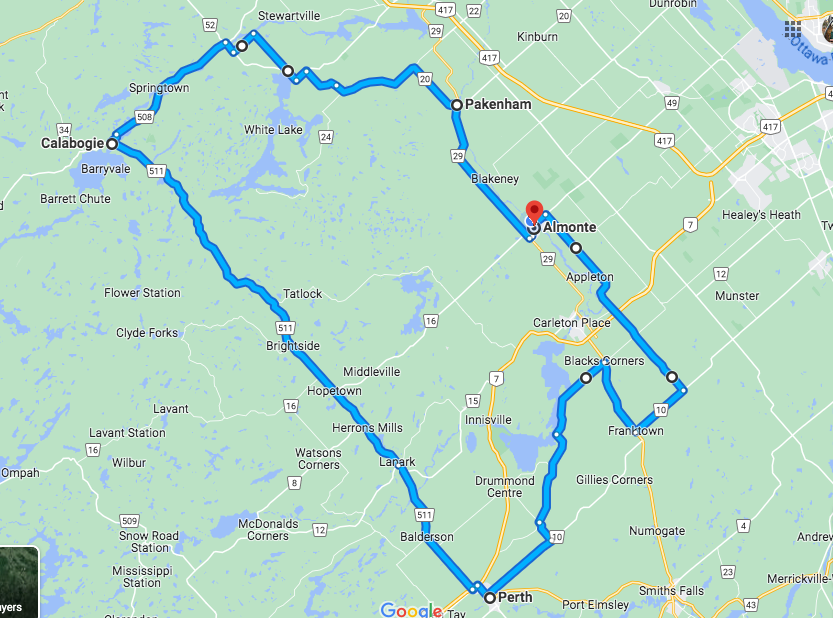 It was a fabulous day to be out – the bluest of skies flecked with white clouds floated above the somewhat muted fall colours. There are still some lovely oranges and yellows to be seen especially where there are larches (aka tamarack). They seem to turn later than their deciduous cousins. It was also a bit cool and quite windy, but not unmanageably so.
There were riders everywhere and I saw several groups. We exchanged waves and I chatted with a few at the Bogie stop. Synchronistically, I met Ron Ryan (with his son Aaron riding pillion) on county road 17 homestretch.
I had pauused to take a photograph of a cornfield when I saw a bike coming toward me.
"Awesome!" I thought to myself. "I'll take a video for my Relive."
As I had left her running, Blue may be heard purring in neutral during the video. This soft rumple has become #myfavouritesound thanks to Far Reach Outfitters who fitted her non-stock pipes with perfect baffles.
The oncoming bike slowed as it approached and then made a U-turn. Despite the bright yellow V-Strom being eminently recognizable, I didn't realize it was Ron until he stopped beside me and started to chat.
Afterward, I reflected on how fitting it was that I should run into Ron on Blue's last loop of this, my second season. Ron is one of several experienced riders who have been really supportive of me since I started on this big motorcycling adventure. He's taken me pillion a couple of times; we have also ridden together just he and I as well as in small groups. I am really grateful for his help as well as that of others including James Amundson, Graham Collins, and Tony Fenske.
Lucky me <3
Note: I say Blue's last loop of the season because it may not be mine. TheFox is on hot standby in case the weather should warm up again between now and the end of the year… 🙂 
© 2023 Susan Macaulay. I invite you to share my poetry and posts widely, but please do not reprint, reblog or copy and paste them in their entirety without my permission. Thank you.