letterkenny foils my attempt to beat the heat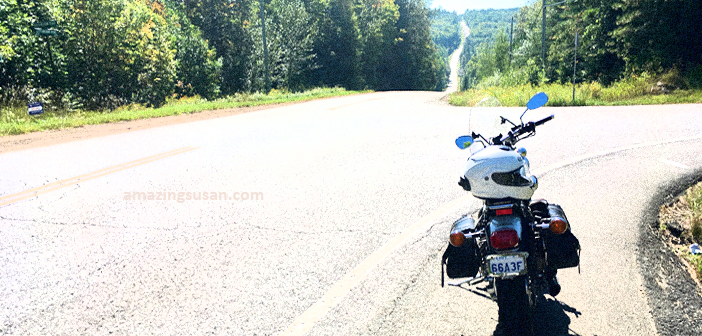 It was meant to be 30 C (feels like 42 C) by early afternoon and I don't handle searing hot temperatures well. Had I left on schedule at 7 am, I might have beaten the heat as planned. But I didn't. I was forty-five minutes late getting on the road, which is not a lot in the whole scheme of things and may not have mattered, except…
~~~~~~~~~
The plan was for a 'quick' four- to five-hour loop to Barry's Bay. Leave early. Get home early. Beat the heat.
My initial time-saving strategies worked well: I took the 29 to Arnprior (faster than up Wolfgrove to the 511 to the 508 to Centennial Lake Road), gassed up in Pakenham at Karson's Service Centre (Karson helped me two years ago with my mirrors when I was a brand new rider), hopped on the 417 to Renfrew, then the 132 and the 41 to Denbigh. It was all good and there was no traffic until I came upon a slow truck with a car behind it and no opportunity to pass. Then some road works. Then a required  comfort stop in Griffith.
Still. I wasn't too far behind.
I love the sweepers between Griffith and the Denbigh turnoff from the 41 (made some time up there), and  the roads from Denbigh to Barry's Bay are brilliant – nice curves, hilltop churches, roller coaster dips, new pavement, few rough patches, etc.
Stopped in Barry's Bay for gas and got caught up yakking with a former rider in a pick-up truck (tick, tick, tick) then there was a wide load complete with before-and-after escort vehicles. More time lost.
But it was Letterkenny that did me in. I wanted a pic at the corner of the road coming from Rockhampton. Everyone knows that high noon, which it almost was by then, is the worst time to take photographs. Nevertheless, I shot many of them perched on the side of that hill. None of them does the road justice. Sigh.
Meanwhile, it was getting hotter.
Up, down and round and round to Quadeville where I didn't even stop at my favourite General Store (Kauffeldt's Grocery). Over the hill and turn right at the 'T,' then right again onto Opeongo Road at the bottom of which sits the Foymount lookout.
Whaddya know? A bunch of bikers are taking in the view.
I pulled Blue over on my side of the road, switched off the ignition, kicked the stand down and headed back to the lookout on foot where a half dozen 'seasoned riders' milled about amongst their Goldwings and the like. As I got closer I noticed the nearest one's vanity plate said "Rookie." I chuckled to myself.
"Hey, you guys want me to take your picture?" I said.
"Are you kidding? We don't want any evidence," came the reply. I chuckled at that too. A conversation about roads, destinations, and home bases naturally ensued. And yep, I took a few group photos for them as well.
Halfway to the 41/132 junction I had to stop for a couple of road repair guys shovelling hot asphalt into potholes. Holy cow. What a day to be doing that! I thanked them for their hard work while I waited for two oncoming riders to go by. I neglected to shoulder check when I started to move again and I just about got run over by a CAA recovery tractor trailer that had pulled up behind me out of nowhere.  Another lesson learned.
By the time I got to Renfrew, I felt as if I might spontaneously combust and Blue's pipes might have been glowing red they were so hot against by leathered calf. I thought it wise to rest a few moments in the shade of a tree by White Lake.
The plan for tomorrow, when it's meant to be just as warm, is to leave earlier, shorten the route and be home before noon.
Stay tuned 😛
© 2023 Susan Macaulay. I invite you to share my poetry and posts widely, but please do not reprint, reblog or copy and paste them in their entirety without my permission. Thank you.