strawberry fields forever. or maybe until monday.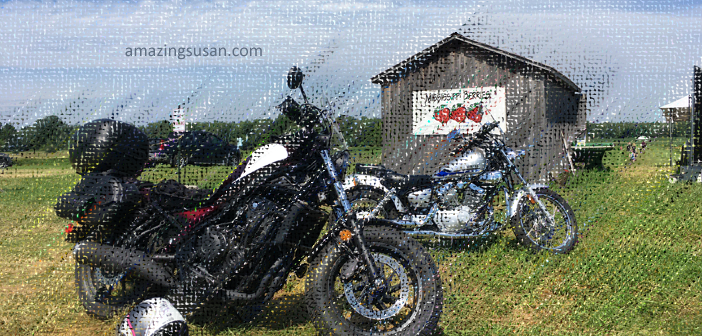 We didn't just happen upon the strawberry fields. Barb put them in our ride plan.
The synchronicity of the route wouldn't surface until after the fact, which isn't surprising as that's how synchronicity works. Everything seems random until it's obviously not. Or at least obviously not to people like me who pay attention to such things.
As it turned out, we discovered when we got there that the owner of Mississippi Berries knew Barb's uncle and had bought her uncle's farm some time ago and, well, you know how THOSE kinds of conversations go… #onforever #smallworld
But that's not the point of this post. The point is you can still get strawberries (pick your own or buy a basket that's already been picked) at Mississippi Berries potentially until Monday, July 11, or maybe beyond (call them on (613) 259-9911 before you go to check on the strawberry supplies).
For motorcycle riders (and car drivers for that matter), here's the route we took from Almonte to the strawberry fields and back:
Wolfgrove Road ->
TR onto Tatlock Road (at Union Hall) ->
TL at Clayton General Store ->
TL Galbraith Road to Middleville ->
go straight at stop sign at Wolfgrove Road) ->
follow Herron Mills Road to hwy 511 ->
into Lanark and headed towards Perth
TL onto Ferguson Falls Road
STOP for strawberries at Mississippi Strawberries
continue on Ferguson Falls Road
TR onto Prestonvale Road to Balderson
TL onto Hwy 511 (towards Perth)
TL onto Drummond Concession 7
cross Hwy 7 (scary!)
keep left to stay on Concession 7 until Tennyson Road
TL onto Tennyson and stayed on it until it turns into the 9th line along Mississippi Lake
TL at the lights at Blacks Corners
TR at the lights at Carleton Place onto Hwy 7
TL at lights onto McNeely Avenue
TR onto Hwy 29 to Almonte
Don't like that route? Create your own on google maps or your favourite app 🙂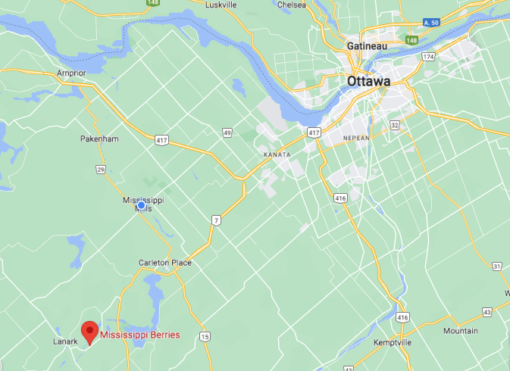 Here's Barb's take on the strawberries followed by a few pics:
Enjoy!
© 2022 Susan Macaulay. I invite you to share my poetry and posts widely, but please do not reprint, reblog or copy and paste them in their entirety without my permission. Thank you.
10 motorcycle rider cabin fever symptoms (as demonstrated by my cat)