14 things i'm grateful for today 22/11/07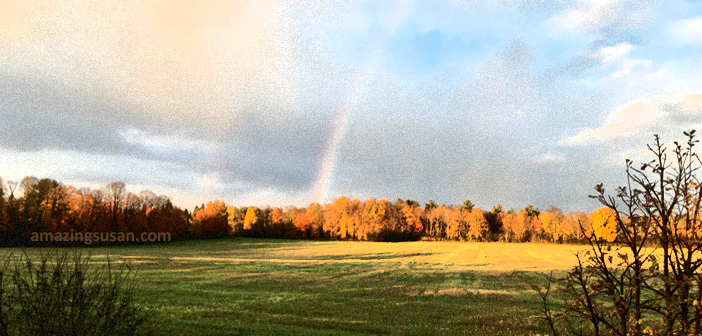 On days that are challenging, or when I'm feeling less than stellar, I find it helpful to reflect on things I am grateful for.
Today was one of those days.
14 things I'm grateful for today
I'm grateful for the beautiful rainbows I've seen over the past month while walking and riding.
I'm grateful for having friends around the world and for being able to stay connected with them using technology. I'll be speaking to Elaine in New Zealand tomorrow and Richard in the United Kingdom on the weekend.
I'm grateful that I'm healthy and so far only have to manage a few age-related aches and pains
I'm grateful for Tylenol (see 3 above 🙂 )
I'm grateful that I have a family physician and that he and his team are so proactive, available and responsive
I'm grateful I live just a few blocks away from our community hospital, which I've had to access several times over the last four years, most seriously by ambulance after the oops in 2021
I'm grateful for the amazingly warm weather we've had this fall – it has allowed me to keep riding and surpass my odometer goal for the season

On TheFox and waving at Pete Andress

I'm grateful to Pete Andress for capturing and sending me a picture of TheFox and me in motion and me waving!

I'm grateful for vaccines, including the flu shot I got this morning (which is causing me to feel a bit under the weather right now) and the fact they have helped to keep me healthy now and in the past
I'm grateful for naps and that I can take them pretty much any time I feel as if I want or need to
I'm grateful for the sound of mom's antique clocks and that I took them with me when I could
I'm grateful for the beauty of drying cornstalks in the fields
I'm grateful for farmers around the world that grow our food
I'm grateful for the wind chimes hanging from the weeping mulberry tree that pokes through my deck and that neighbourhood kids like to come up the driveway and 'ring' them
More posts on being grateful here.
#stayhealthy #besafe #begrateful #begood #dogood
© 2022 Susan Macaulay. I invite you to share my posts widely, but please do not reprint, reblog or copy and paste them in their entirety without my permission. Thank you.