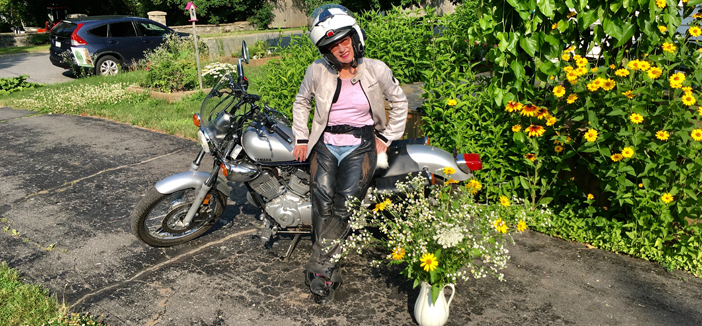 When I was at my wits end in the spring and summer of 2012, I took Mom into the fields around her rural home to gather wildflowers.
We walked, talked and cut whatever colourful or interesting specimens we found — daisies, Queen Anne's lace, Fleabane and others whose names I either never knew or don't remember now.
"Isn't that one pretty," Mom would say, having again spotted something we'd seen already minutes before.
"Yes, it is," I would reply. "What is it, Mom?"
Her knowledge of flowers outstripped mine by several orders of magnitude. But dementia was taking its toll.
"Let me see. It looks a bit like Cosmos, doesn't it? But I don't think it's Cosmos."
Her brow furrowed as her brain shuffled through the dozens of flower varieties stored somewhere in the vault of her memory. Occasionally, the search was successful. Most times it wasn't. It didn't matter. What mattered was that we were together doing something that was at once engaging, energizing and peaceful.
We brought our harvests home to the back deck and from them created arrangements in all manner of vessels big and small. My favourites were long-stemmed beauties bursting from white antique porcelain jugs (like the ones above and below) that had once been used to pour water into matching washbasins before the advent of indoor plumbing.
When Mom was jailed in 2012, I moved near to where she was so I could visit her every day. Each spring and summer since, I have continued the practice of gathering wildflowers from fields and roadsides (and recently from my own front yard!) to create arresting arrangements like ones she and I made. It's a joyful process that reminds me of Mom.
Such arrangements grace the inside of my living space from June through September.
This year, while riding TheTwin in Mississippi Mills and The Ontario Highlands, I have taken great pleasure in appreciating the abundance of roadside flowers and how the floral landscape changes subtly from week to week. This also brings me joy and reminds me of Mom.
And I laugh to myself as I recall her worried answer to the sound of pipes roaring up the country twistie that ran in front of her big red brick house on the hill:
"Oh dear. I really don't like the those darned motorcycles."