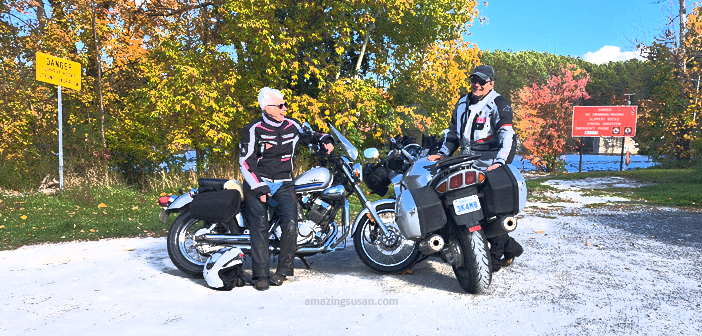 This is me and my friend James (aka Jim) near the Pakenham five-span bridge on October 9, 2022, about fifteen minutes after we had been headed in opposite directions on the road to and from Pakenham.
It was a beautiful autumn day. I had been going home to Almonte after a short solo loop. He was just on his way out. He recognized me as he approached and then went by me. He waved in a way that said "I know you." When I saw in my left mirror that he was slowing and turning around, I pulled over and stopped.
It wasn't until he rolled up beside me that I knew who it was.
"Hey you," I said. Lifted the bottom part of my modular helmet, smiled. "What's up?"
"Not much," he replied. "Going for a ride. Wanna come?"
Is the sky blue?
We stopped in the parking lot near the bridge where a random passer-by took some pics with James' phone. We had a bite to eat at the Antrim Truck Stop just outside of Arnprior and then rode back to Almonte where he lives just around the corner from me. I didn't see him again until March when he gave me a car ride down to the Spring Motorcycle Show in Toronto so I could recite a poem in the show's Second Annual Biker Contest on April 1st.
He had to go anyway he said. No problem for me to tag along.
Too bad I didn't win the poetry contest. But lucky me to have angels around the corner and around the world who stop to lend a hand when they see I need help.
In•cog•neat•oh!
by susan © 2023
Listen here:
Read here:
some folks pause
to lend a hand
without the need
for marching bands
they know just how
to do what's good
while riding through
the neighbourhood
they come and go
in many forms
and specialize
in calming storms
they don't ask questions
or tell you lies
don't try to fix
tears in your eyes
they help you if
and when they can
by trying to make
things better than
and oh! guess what?
they could be
you or i
playing angels
in disguise
© 2023 Susan Macaulay. I invite you to share my poetry and posts widely, but please do not reprint, reblog or copy and paste them in their entirety without my permission. Thank you.