11 things i'm grateful for today 21/02/11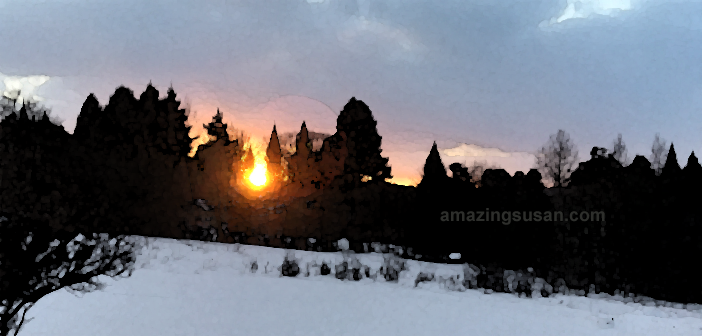 A good way to lift my own spirits when I'm feeling a bit blue is to make a list of the things I'm grateful for.
Here is today's list:
I'm grateful to have had enjoyed amazing sunsets on a virtually daily basis wherever I have lived in the world. The one above is from three years ago today (i.e. February 11, 2018). I took the pic from my back deck in North Hatley, QC, Canada, and photoshopped it tonight February 11, 2021).
I'm grateful for the amazing countries I've lived in: Canada (British Columbia, Quebec, Alberta and Ontario), New Zealand, Australia, and the United Arab Emirates (Abu Dhabi and Dubai).
I'm grateful to be living in Almonte, Mississippi Mills, Ontario, Canada, right now.
I'm grateful for good cards.
I'm grateful for the support I get from friends all over the world (and next door)!
I'm grateful for poetry and that it's such fun for me to write – especially during this seemingly never-ending pandemic.
I'm grateful for my strengths and weaknesses which are sometimes double-edged swords. I'm particularly grateful for being honest and true to myself, because I despise lies.
I'm grateful for winter.
I'm grateful for 70% chocolate.
I'm grateful I can still breathe and walk and see and touch and smell and hear.
I'm grateful my brain still processes stuff relatively efficiently. Sort of. LOL 🙂
More posts on being grateful here.
#stayhealthy #staysafe
© 2020 Susan Macaulay. I invite you to share my posts widely, but please do not reprint, reblog or copy and paste them in their entirety without my permission. Thank you.