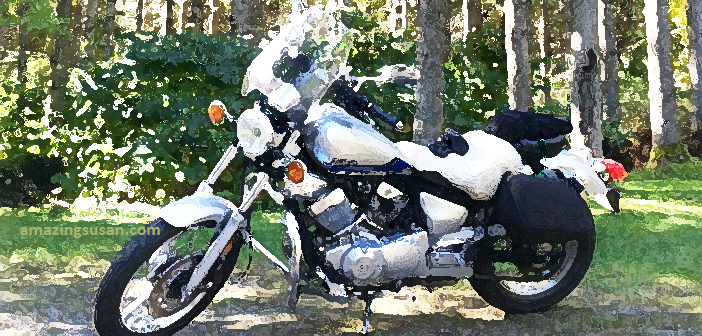 Am I right? At least in eastern Ontario!
moto cycle: a seasonal poem in four parts
by susan © 2023
Read here:

moto cycle: a seasonal poem in four parts 
~fall~
damn! i can't believe it's time
for freezing, stormy winter climes
summer went by way too fast
i'm so depressed, don't even ask!
these ride-less months are such a grind
i know they're gonna blow my mind
what will i do? how can i cope?
"hey there bro, please pass the –– "
~winter~
when we are too long inside
we get forlorn and miss our rides
days drag on, there's too much snow
on roads, trails and tracks we'd rather go
we count the sleeps before we can
go braaap and vrooom, be louder than
"come on warmth, be quick" we pray
"so ride-less we won't have to stay"
~spring~
spring's the thing we all await
seems it's always far too late
we mark the days 'til it appears
now, guess what? it's finally here!
snow is melting, the sun is out
makes us want to dance and shout:
yippee! yahoo! we're so over hiding
let's free ourselves and do some riding
~summer~
here we go, it's open season
staying home is worse than treason
wake up, rise up, forgo the bottle,
gear up, get out, roll on that throttle!
© 2023 Susan Macaulay. I invite you to share my poetry and posts widely, but please do not reprint, reblog or copy and paste them in their entirety without my permission. Thank you.
uk composer turns #bikerpoetry into heart-stopping, foot-stomping, chart-topping country music song <3