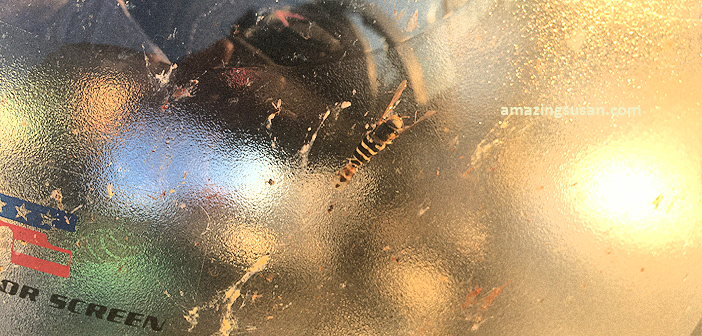 Motorcycle riders: skip to the last two paras before the video – no explanation around bugs on stuff is required for you.
Bikers who have a windscreen on their motorcycle or a face shield on their helmet battle constantly to keep them clear and clean of dead bugs. Especially in spring and especially in June (in Canada at least) when big, hard, crunchy June bugs are out in full force.
When a June bug hits your helmet, it cracks like a whip on impact.
Unlike automobiles, which have a draft that 'pushes' insects up and away from the windshield, motorcycles are deadly to insects. They end up splattered on everything front facing and exposed including lights, farings, windscreens, helmets, jackets, pants and gloves.
The result is kind of yucky >>>
Most riders know that keeping one's bike and gear semi-presentable is a never-ending chore that, as my mom used to say: "Will drive you buggy." In this case, literally!
Others advocate for leaving the bugs in place. (Ewwww imho.)
gone buggy?
by susan © 2023
Read here:

gone buggy
this bug's been on my screen for weeks
it won't let go, it never sleeps
it clings like it's been superglued
staring up and slightly skewed
it hasn't moved or tried to fly
which causes me to wonder why
it perches there day in and out
like a cactus in a drought
it's been so long in one position
i've begun to fear for its condition
it's looking crispy and kinda dry
do you suppose it might have died?
 © 2023 Susan Macaulay. I invite you to share my poetry and posts widely, but please do not reprint, reblog or copy and paste them in their entirety without my permission. Thank you.
uk composer turns #bikerpoetry into heart-stopping, foot-stomping, chart-topping country music song <3