good thing michelle was along for the ride!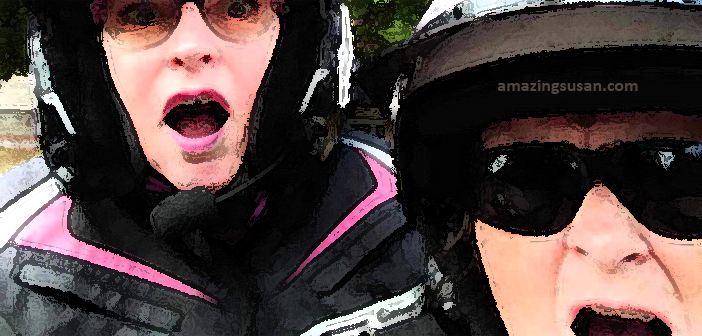 It was a perfect day to #RideTheHighlands. Not too hot, not too cool. Bright sun and blue skies with a few clouds here and there.
WindSister and fellow Canadian Motorcycle Cruisers member Michelle B. and I had mapped out a varied and interesting route and we had all the time in the world to complete it. Including snacks and breaks, it took us about eight hours to do the approximately 410-kilometer circuit. We rode at a leisurely pace.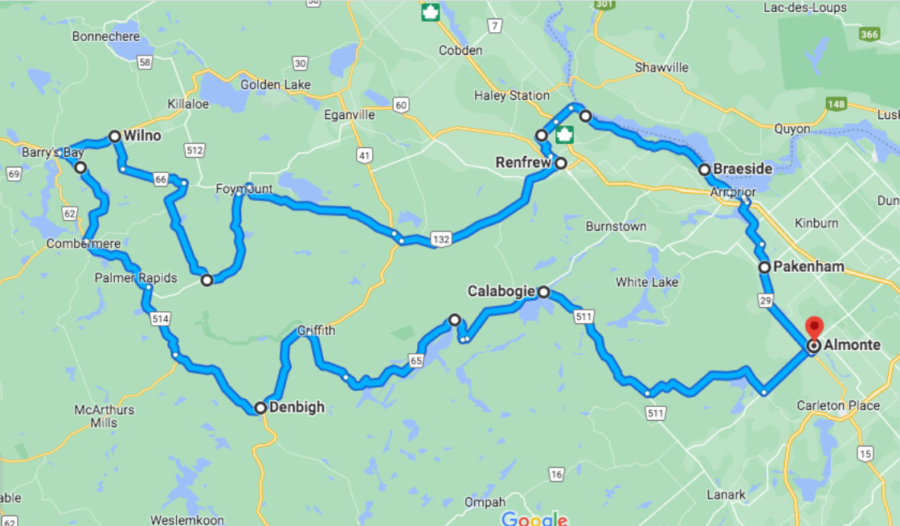 As usual, there were a few bumps in the road.
I forgot to switch on the charger, so my phone died halfway up Tatlock road, which meant the Relive stopped tracking our route. I didn't notice the dead phone until we stopped at the Bogie General Store. (See if you like the creative solution I engineered in the Relive video below.)
We knew in advance about the 1.8 kilometers of resurfacing works on Centennial Lake Road. We rode slowly through and then stopped and had a nice chat with the crew about when the paving might be finished. Friday, they said.
Oops. I thought the church in Schutt was farther down the road. Good thing Michelle excels at making U-turns.
Rats. The chip truck in Quadeville, where we had planned to have lunch, was closed. Good thing Michelle had thought to bring oranges, granola bars and a KitKat with her…
The cracks in my licence plate travelled more quickly than expected. Guess who had an idea and the tools to keep it in place? I'll give you a hint: it wasn't me. "We need a washer," said Michelle said. "Let's try the General Store across the street." Thanks to Iris at Kauffeldt's Grocery for giving us the washers we used to keep the plate secure (for the moment) and good thing Michelle knew what she was doing.
Speaking of good things and Michelle, it was she who suggested we take the 'Surprise! It's fall already.' photo with the redding maple tree as a backdrop (see the Relive vid) and that we stop at Wes's chip truck in Arnprior when the oranges, granola bars and shared KitKat proved insufficient to sate our stomach rumblings.
Smart woman that Michelle. And an awesome riding partner.
I'm lucky to have several other amazing riding partners. It's joyful to be on the road with all of them. The challenges and fixes that are inevitable parts of our rides make for imperfectly perfect days 🙂
Other perfect rides with:
Barb (here and here, among others)
James
Anne
David
Ron
Mark & Ron
Annick
© 2023 Susan Macaulay. I invite you to share my poetry and posts widely, but please do not reprint, reblog or copy and paste them in their entirety without my permission. Thank you.